Are moose more dangerous at night?
by Jeff
(Spokane)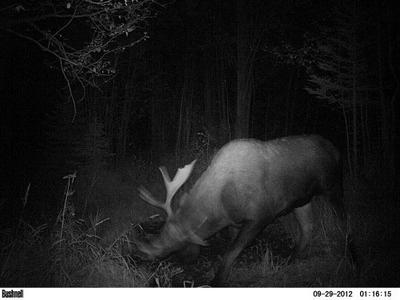 Night time moose encounters.
At Thompson Lake next to the Courdelane river in Idaho its a moose infestation and I bike in in the middle of the night.


A couple days ago I rode in to a hot spot and heard deep grunting and crunching about 50 feet way--very close for me alone and at night.
I heard the water and saw her swimming across then sloshing around on the other side of the river.
This happens often there because its heavy with moose some of the best moose territory in the country.
A bike glides along silently and I often startle moose but so far they take off. This could be dangerous at night especially if I run into one LITERALLY as they cross the path or walk along it.
At night is a moose more likely to run away? or are they more likely to charge since they may be more fearful and defensive at night?
I'm going back there tonight and many times the next months and seeking good video and pictures I am trying to get a feel for how much danger I am in or how safely I could let a moose approach or stand near one and film.
I would love to take part in a hunt--but not the one to clean it..(also I realize no body can guarantee anything so no matter what I would err on the safe side).