Are moose solitary?
by Lee Phillips
(The Great White North)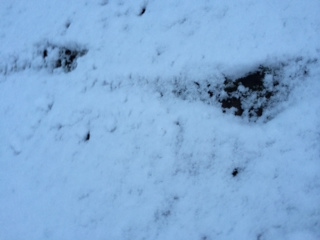 Close up but not very clear
We've been trying to solve a mystery.


There have been no sightings but all sorts of "evidence" of a large hooved animal around the perimeter of our property.
Poop had been appearing almost daily for a week, then none for 2 weeks, then some a couple of days, then none for quite a while.
Yesterday, my husband went out to feed the birds and found a fresh pile 10 feet from our back door RIGHT ON the property.
On one occasion, there were tracks left in the snow appearing to be hooves, but dragging marks between them.
We live in rural Ontario right beside about a 10 acre swampy low land area. We think the animal comes out of the marsh, goes to the toilet and retreats back to the marsh.
But this time, coming right onto the property.....how could we miss a moose?
Would it come out in broad daylight and would it be alone?
We just moved in in July. The droppings started to appear in mid-late October.
There are horses and cattle near, but not in the immediate vicinity. The ones the closest are penned and accounted for.
If it is a moose, would it be coming so close to the house and when would be the best time of day to watch for him?
PS: We so do not hunt. We would love to photograph him.