Axle spindle attachment to trailer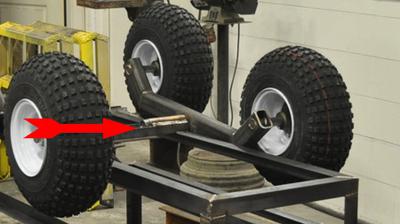 Swivel Pin Main Sleeve Welded to the C-Channel
From the plans I cannot see how to attach the center pin to the C channel on the trailer. To my understanding you take the center pin on the axle and slide in into the tubing welded to the c channel. Then you weld a small section on tubing on the end. Am I missing something? And pictures would help. Thank you.


---
Thanks for your question.
I'll do my best to clarify that for you.
You will see in the photo I have attached, the weld bead where the main swivel sleeve is welded to the c-channel.
Place the sleeve and swivel arch assembly onto the c-channel in preparation for welding. This is when you make sure your tires will clear the frame and they are square and parallel. (I find it easier to weld the small sleeve onto the pin prior to placing the main sleeve onto the c-channel.)
The main sleeve is smaller in diameter than the width of the c-channel opening is, we find it easier to place a small section of bar along side for filler for welding. See the sketch (not drawn to scale).