"I Love You Mom!"
by CARL KOZAK
(HAYWARD WIS.)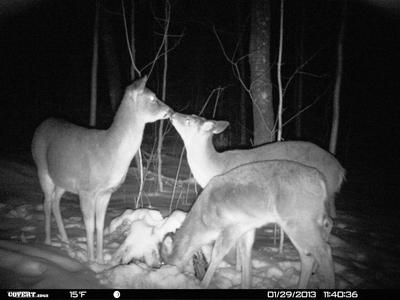 I LOVE YOU MOM
30 years ago we built a log hunting cabin in the wilderness of Northern WI. Today is Feb 5th is 18 degrees below zero and the cabin snowed in and only accessible by snow shoes.


A few weeks after our whitetail season ended two months ago, I put out a trail cameras to see what survived the hunting season, along with some nice clover hay for them to enjoy during our harsh winters.
I have hundreds of trail camera photos, but this one of a doe and two fawns seem to tell a true love story of nature.
I am so fortune to have this photo just to remind me how animals survive and share companionship.
Sharing the photo with you with hopes you too will enjoy it.
Carl