Mid-Day Moose Hunting
by Bob
(Ontario)
This is the story of my first moose; a 1500lb bull.


The first morning is always a thrill for me as well as most hunters I suppose.
Awaking to the smell of coffee and the fresh Northern Ontario air, then after breakfast,
heading out before dawn.
===================
Although this bull is not my first one, it is a nice representative of our moose in Northern
Ontario.
The animal taken in 2010 (1300-1400) lbs. the moose last year was just a little smaller
but none the less still a nice one, (1200-1300) lbs. Both animals taken in the morning
9:00-9:30.
We have shot them at noon, mid-day and in the early morning, they are where they are and if you call they will come.
For me the idea is not the kill so much as the hunt itself, NO: TV, RADIO, CELL Phone
or Computer. No big city lights, just you and your buddies and if the opportunity should
arise then so be it.

They are a Majestic Creature and look best beside the potatoes, peas and barbequed onion.
Only 6 more days to see if we drew a tag, and 73 days till First Morning Jitters.
:-)
===================
Two miles up to our turn off, then 5 miles down a cart track on ATV's.
I was to go to an area called the 'meadow', a funny shaped field with a creek running
through the middle of it. Once I got to my place I waited for the day's events and dawn
on this cool morning.
The bush was extremely quiet, the light of the sun finally revealed the other side of the
meadow. At 10:30 that morning I heard a loud crack in the bush on the other side of the
meadow. The tree I was sitting under was visited by 50 scared little birds which soon
after departed.
I made a grunt call then at 11:15 another even louder and closer crack.
Cabela's Bargain Cave offers quality merchandise with savings up to 70%!
At 11:30
it started to snow… and snow hard, with flakes the size of tennis balls. I knew
some-thing was up, but I couldn't resist at sandwich to help warm me up.
11:50 am something caught my eye through the tag alders; suddenly a squirrel started to
chatter then I saw the 52inch snow covered rack turn.
I could now see the outline of his body, pulled my .270 up to left shoulder sighted him in
and fired, CLICK "oh no", (that wasn't exactly what I said).
The magazine was in, but no cartridge in the chamber! I pumped in a round and fired
which connected right behind the front shoulder, a lung shot.
The animal went down and after what seemed like an eternity got up took 2 or 3 steps
then down again.
My 2nd shot was fired and was placed in the rear knee joint the 3rd time he went down it
was to stay.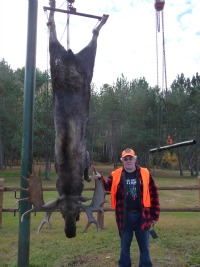 At this point in time, 11:55 it had stopped snowing but everything was white including
the meadow.
When my buddies joined me one of the told me that he almost swallowed his whole arm
as the 1st shot happened when he had just started eating his sandwich, the other one
threw his away as he could see the moose but not me.
This moose was big, from the top of his hump to the bottom of his chest was as deep as
he was long. We got him gutted, tagged and headed back to the camp that night.
The next day when we got back, there were a crowd of people standing around the
moose.
Leupold BX-2 Cascade Binoculars
Boy news travels real fast up north for such a remote area, they must have used smoke
signals.
Just goes to show you any time of the day is good for moose (even mid-day moose hunting) we've got
them at 5 pm and at the break of day, any time you are there, pay attention you never
know.
Thanks for reading,
Bob