The Best Moose Hunting Rifle Caliber is...
It would be easy for me to point out one particular moose hunting rifle and then point out all its strong points. The truth be known though a strong case can be made for dozens of different calibers.

I have used two commonly available calibers myself and have had very good success with both. I will explain that later. As you may be aware the topic for choosing a rifle caliber for big game hunting has been hotly debated since before smokeless powder was available.
Hunters are passionate people and are usually more than willing to sit down and share with you there choice of calibers and why they think their choice is best... or at least better than yours!

Moose Hunting Rifle - Tikka T3 Lite in .30-06 containing 180 gr Federal Premium with Nosler partition and mounted with a
Leupold VX1 4-12 x 40 mm

Moose are huge animals, therefore whatever moose hunting rifle caliber you use must have at minimum enough energy to penetrate the vitals on a broadside shot (that would include breaking a rib or two). If you are not prepared to wait for a broadside shot only, then you will need enough energy to pierce the thick shoulder bones and still reach the vital area.
The best moose hunting rifle will be capable of either of those scenarios.
As hunters the one thing we must all keep in mind it is our duty to dispatch our game quickly and humanely.
I find it necessary to discount a few so-called candidates for a moose rifle. It would be frowned upon by the big game hunting community for you to be hunting moose with any 22 caliber rifle, they are just too small and do not carry enough energy, I would go so far to suggest that a 243 caliber rifle is too small for hunting moose as well. These small calibers just do not have enough bullet mass or energy to take down moose sized game.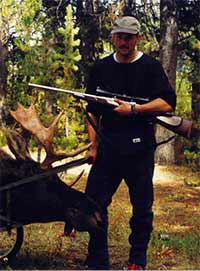 .30-30 Winchester
Who has not heard of the venerable 30-30 Winchester? This caliber has probably killed more game (including moose) than any other firearm in history, but it would not be my first choice for a moose hunting rifle.
Let me explain: Compact and light weight they are a hunters dream except for its short comings. 1) Effective range 150 meters (yards). 2) Not enough energy at the further distance. 3) It is not an accurate cartridge. It makes a great deer sized game rifle, just too small or light on energy for moose.
.30-06 Springfield
If you stick with well-known and readily available calibers for moose hunting you are on your way to success. The .30-06 caliber rifle is an awesome caliber. If you are a re-loader you probably already know that bullets are available from 100 grains up to 220 grains with a huge variety of shapes and weights in between.
The 30-06 has everything going for it. Loaded with 180 grain bullets, you can take on any North American Game. The .30-06 is a good flat shooting, long range moose hunting rifle. It is an accurate caliber with lots of energy; loaded correctly, has a point blank range of approximately 330 meters. Point Blank Range: when sighted correctly will hit a 10 inch diameter circle anywhere from the muzzle out to 330 meters. This distance is more than ample for most moose hunters in any situation.
I have taken 10 moose with my 30-06 caliber using 180 grain bullets, 8 of these moose were with one shot the other two I took one more shot, only because they were still standing(as it turned out , the second shot wasn't required). I have been very happy with the results with this rifle and highly recommend it as an excellent moose hunting rifle. My son and dad now share the 30-60, depending on which one of them comes with me.
I have a Leupold rifle scope mounted to most of my hunting rifles. This is the brand that fits my budget and gives me the reliability and quality I expect.

.308 Winchester
My father has always loved the .308 cartridge for hunting moose, but through an unfortunate turn of events lost it. In his younger days (he is 85 now... and still moose hunting!) he hunted moose on horseback in the Caribou region of British Columbia. He had a Savage model 99F in .308 and killed several moose with it using 150 grain bullets. His recommendation... the .308 caliber for a moose hunting rifle.
I must agree with him, the .308 is a good cartridge for moose hunting. For me though I look for a cartridge that has just a little more reach than what the .308 has to offer.
Here are a couple of related articles...
The right bullet choice for a 308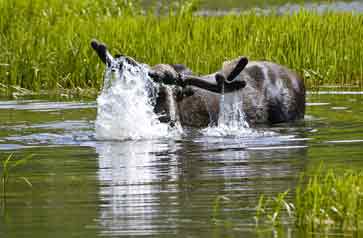 .270 Winchester
My current moose hunting rifle is a .270 caliber. Some might argue that the .270 is under gunning if used for moose hunting. In some senses they would be right... but in the right hands it is an adequate cartridge. It is another example of a flat shooting long range hunting rifle.
Since switching to the .270 I have shot 9 moose. It is a .270 caliber Model-75 stainless steel with a beautiful wood stock. I use 130 grain Nosler Partion bullets.
7mm Remington Magnum
One of my moose hunting partners shoots a Parker Hale 7mm Remington Magnum with 160 grain bullets and has taken many moose with this rifle. He loves this rifle, as a matter of fact I have several friends that use this caliber for a moose hunting rifle. My only complaint is the recoil. With the amount of recoil you get from any magnum rifle, it just does not make it a pleasure to shoot.
7mm WSM

New to me this year is the 7mm Winchester Short Magnum. The model I received is a Browning A-Bolt in stainless steel mounted in a synthetic stock.
The scope is one that I love! It's a Leupold Vari X-III 3X9 with a 40mm objective.
As of this writing I haven't had a chance to take it to the range nor will I be able to try it out on a moose hunt  this coming season (we are going for the archery only season).
I'll probably choose a solid copper bullet in either 130 or 150 grain for this rifle as I have decided to do my part for the environment and switch away from using lead bullets (see article on the banning of lead bullets).

.338 Winchester
Another friend of mine shoots a 338 caliber rifle and he too, has taken many moose.
---
Confused?
It would seem that you are not alone. The question of which is the better moose hunting rifle combination for moose hunting has been going on for years. I have an opinion that will likely be in disagreement with others.
You see, there is no absolute correct answer! Recommendations are about the best we can do.
You need to do your research, due diligence I think we'll call it. As I stated previously I currently am using a Model 75 Sako .270 caliber hunting rifle, and I get my moose. I also should say that I am a marksman; I have competed in and won many competitions. With my skill level I have no problem using this caliber; I also know the limitations of this moose hunting rifle. There are definitely times when I must choose to wait for a better presentation from the animal or simply choose not to shoot.
When choosing a moose hunting rifle you must consider the following :
How much money do you want to spend? Prices can range from a few hundred to several thousand dollars!
Your skill level – (do you practice regularly)
Are you prepared to take only broadside killing shots? Or are you going to take a chance at marginal shots too?
What distance you will most likely shooting at? 100 yards to 400 yards? (If you do not practice long distance you should not shoot at an animal long distance). IE: You should never shoot at an animal at any further distance than what you practice and are efficient at.
Are you hunting the prairie provinces or are you hunting the thick west coast mountains? In other words do you need a long range or a bush moose hunting rifle.
Do you flinch when you pull the trigger of your hunting rifle. Are you afraid of the recoil? Many a hunter get beat-up by their own rifles because they purchase one that has too much recoil for what they can tolerate; this only makes for sore shoulders and wounded animals.
Do talk to everyone you know who knows anything about moose hunting. Find out what they use for a moose hunting rifle, ask questions. Go to your local rifle range and see what successful hunters are using.
Don't forget our moose hunting tips page. It's a valuable resource!

Recommendations
I recommend that you look at the .30-06 Winchester or the Winchester Short Magnum (WSM) in .300 caliber as possible choices for a moose hunting rifle.
These rifle calibers offer a large choice in bullet weights to suit the demands of the modern day hunter. You should be able to find a cartridge that is fitting for moose sized game.
For the average hunter these are high performance hunting rifle calibers that give magnum velocities without the massive recoil. Most rifle manufacturers make entry level to premium grade rifles. You should be able to find one to fit your budget.
Stick with the well-known brands and calibers for a moose hunting rifle, this way parts and ammunition will be readily available no matter where you travel.
Oh, I almost forgot... stay away from semi-automatic rifles, they just do not have the accuracy potential of the always reliable bolt action rifle.
A note on break action rifles: If you are not 100 percent confident in your shooting abilities I would stay away from these. If you need to make that second shot it just might take too much time to reload.
Moose Hunting Rifle Survey Results

The results of the vote for your favorite moose hunting rifle caliber are in constant change.
As of August 01, 2013: 992 respondents by far the highest percentage chose the 30-06.
30-06 (24.2%) 

.308 (13.0%) 

7mm (9.4%)
300 Win Mag (8.8%)

What do you think? Voice your opinion!
After the Purchase

Once you purchase your moose hunting rifle....Practice, Practice, Practice. Assuming of course you have taken the time to properly sight in and maintain your rifle. I cannot stress this enough! Remember this if you remember nothing else, do not shoot at animals at any greater distance that what you practice and are proficient at. It is very disheartening to hear a hunting story of a hunter and they brag about how it took 3, 4, 5 or more shots to take a moose down. One properly placed shot, through the vitals is all it takes.
Then when the moment of truth arrives, you need to decide under what circumstances you will shoot; know the anatomy of your target, identify the vital area and make your shot confidently.
A couple more articles of interest...

Want to know what kind of moose hunting ammunition to use? Visit our moose hunting ammunition page and read our point of view.
A new movement to do away with lead bullets? What is your take?
---
"Are you looking for some hot Christmas deals? Check these..."

Like this page?

---
---
Do you have a favourite caliber or have a question about moose hunting rifles?
I think it is fair to say that most hunters have a favorite big game rifle (brand, action and caliber). Do You? Why did you choose it? Do you think that one particular brand, caliber or action is best? Why?

Got a question?? Ask away!

What Other Visitors Have Said
Click below to see contributions from other visitors to this page...

Right Bullet Choice for 308 for Hunting Moose
Going to use a custom built 308 for hunting moose this year in Alberta and Yukon for the first time ( nice, compact and light for my recently repaired …
Browning 308 BLR Moose Hunting Rifle
I use a Browning 308 BLR with a 2 to 7 Leupold Scope. Dan, Thanks for your input. Here's a little information about the Browning BLR Lever Action …
Moose Hunting Caliber 30-06 Winchester Model 70
I like that Winchester model 70, it is the best for moose hunting! Thanks for the comment Tluang. I couldn't agree with you more. From what I've …
308 for a Moose Hunting Rifle
Gun Purchase Question I am considering purchasing a Remington 700 VTR in 308. I was wondering if this rifle is good enough for my moose hunting trip …
358 Savage Lever Action
I`m experimenting with this rifle and the dies were hard to find. As of now I have found 170 grain gives a good distance with a nice result. Will let …
Moose Hunting Rifle Scope
What brand of scope should i purchase for my moose hunting rifle? How much power should it have? BTW, I shoot a Winchester Model 70 in 30-06 caliber. …
Savage Model 99
Hard to beat as a good brush gun with 300 Savage 180 grain cartridges. I get my moose to within 100 feet usually and also hunt where there are not many …
Best Bullet Weight for Moose
I have an older .308 caliber Remington semi-automatic and I was wondering what the best bullet weight ammunition would be when hunting for moose? …
270 WSM
270 WSM is flat shooting and hard hitting. I like 150gr Winchester XP3. I have a Tikka T3 Lite. When moose hunting I like to walk relatively long distances …
Rifle Cartridges for Moose
After moving to Alaska I discovered this site. I had thought that my 30-06 was on the small size for rifle cartridges for moose. I learned quite quickly …
Rifle Size for Moose Hunting
Is a Browning 7mm WSM using 160gr bullets good for moose hunting? Charlie, Good question! The make of the moose hunting rifle is not as critical …
Robert Gradous Custom; 340 Weatherby Magnum
Surgeon action. Jewell HVR trigger. H-S Precision bottom metal. Krieger barrel. Vais Brake. McMillan Hunter's Edge Stock. Atlas bipod. Swarovski …
Blaser R93
After trying several other rifles, I settled on the Blaser R93 with a synthetic stock. It is reliable, accurate, durable, light weight, easily taken apart …
338 Winchester for a Moose Rifle
Well I've dropped a lot of moose, some have run off, but none have ever got up and run when hit by a .338 cal. Winchester mag 225 grain soft point boat …
Cold Shot Accuracy
I have used .308 with 165 grain Core Lokt bullets on Moose, .270 on African game and now own a 30-06 SAKO Bavarian (wood stock.) Which has been to the …
Browning BLR - 300wsm
Browning BLR Lightweight Pistol grip .300 WSM Before I picked this up it was the old reliable .300 Winchester magnum. Use 180gr bullet in both. …
45-70 Caliber for Moose Hunting
I bought a 45-70 caliber recently, to get back into deer hunting. A bit of overkill, but I will be in Northern Maine (above Caribou) where I grew up, …
308 Remington Pump Action
I use a 308 Remington Pump action. They say that Remington is the only gun manufacturer that makes a pump action rifle. I use a one eighty grain bullet. …
Best Rifle Combo for Moose
In 2012 I shot my 30th moose in 50 years and I have used most 30-30, 30-06, 38-55, 44, 12guage slug and a 300 Weatherby. My last one with a 300 WSM. …
Muzzleloader Loads for Moose?
I am relatively new to the muzzleloader world, but I am considering taking my muzzle-loader with me on this years moose hunt. What's a good powder/projectile …
Maine Moose Hunter
I have shot many animals including 1 elk, mule deer and many whitetails with my Winchester Mod 70 30-06 including 2 moose that is my gun of choice . I …
Ruger M77
Very reliable never jams. Light weight. Thanks Steve, What caliber of Ruger M77 do you use for moose hunting? What bullet have you had success …
Sako Finlight 280 Remington
The Sako 280 Remington, when used with 160 gr TSX its hard to beat as long as I do my part. William, You have to love those Sako rifles don't …
Semi-auto Rifles For Moose Hunting
Anyone who says that semi-autos are not good big game rifles have either not shot, owned one or are just plain bias. I have hunted with an old Winchester …
Best Caliber For Moose
I am moving to Alaska and have a 30-06 how effective would that be on a moose? What bullets do you recommend? Hi Mike, The question of What is the …
30.06 Caliber - All Round Big Game Rifle
30.06 ALL THE WAY. If you know how to reload and know your ballistics it's a great caliber. Everything from varmints, to Grizzly. My Uncle has killed Caribou, …
30-06 with a 180 grain Nosler Partition bullet
I think everyone should use at least a 30-06. I used to use Sierra 180 grain SPBT bullets but I had a bad experience once, with a bullet that disintegrated …
Be sure to email this to all your moose hunting buddies. Either click Moose Hunting-Rifle Survey! to email a friend or copy the web address into your email.
http://www.all-about-moose.com/moose-hunting-rifle.html#form