Moose Pillow
How about a moose pillow to decorate your house or home? I think that it would look really good in the cabin or cottage too!
These pillows with moose decor on them will make a great gift. Any moose hunter or moose lover will be appreciative for the thought. Buy one of these for a birthday, Christmas or just about any occasion.
If you are anything like me, and love moose... having a cushion with a moose logo on it would be a nice touch. I have collected lots of moose items for our travel trailer, all with a moose theme. How cool is that?
"I know you are just itching to buy one of these but before you go, don't forget to Opt-In to our Updates newsletter. That way when we post new and interesting pages or recipes you will be the first to know."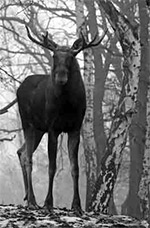 Cozy up to the fire with the grandchildren and relay your tales and adventures. They will appreciate the wild animals on the pillows. Sharing your love of the outdoors with following generations will never get old. It is our duty to ensure the young people of today and tomorrow are raised with the knowledge and admiration for wildlife and the environment, the same traits that both you and I have. These times will build everlasting memories for both you and the loved ones you choose to share with.
If you love moose, I think you should have one too!
By all means use these pillows out on the covered deck, their use is not limited to just the indoors. Your guests will love how they add to the theme you have going on.
If a moose pillow is not just what you are looking for, how about a Moose Quilt Set?
Do not forget to share your moose hunting stories, pictures and read those from others. Just return to the home page and follow the links in the navigation bar on the right to do so.
Want to learn how to hunt moose? Or are you wanting to increase your moose hunting skills?

Look no further!

Our moose hunting tips book is written with not just the novice in mind, there are tips in the book that even the most seasoned moose hunter will find of value.
The book includes 57 chapters, with more than 150 pages of information, jam packed with tips, techniques and discussions - The Ultimate Guide to Moose Hunting!
Return to the Hunter Gifts Page
Return to All About Moose Home Page
Like this page?

---
---