Hi,
Welcome to this issue of the All About Moose Alerts Newsletter.
You'll always know when a message is from me by looking for [All About Moose Alerts] in the subject line or the "The Moose Man" in the "from" email address.
In This Issue:
Moose In the News

Moose Rescues

Exclusive! ULTIMATE MOOSE HUNTING BOOK SALE:
Buy One Get One!

New Moose Call Coming 2016
---
It's a New Year
Moose have been in the news quite a bit lately. With some moose populations being targeted by wolves, tics, brainworm, poachers and unregulated hunting, there are areas where moose populations are being dramatically affected.
Dr. Vince Crichton recently wrote an article about unregulated hunting and the impacts on Manitoba and the Canadian moose. Unregulated Hunting - Putting Canada's Moose at Risk
Lots of people (hunters, trappers, biologists, government officials) are pointing fingers in a lot of differing directions, it would seem however that there is no one single answer or solution. More study is needed - across the board. Governments need to allocate some funding to be sure our moose populations are not put into further danger.
---
Moose Rescues
A recent and successful moose rescue near Kelowna BC in early February almost didn't end that way for one young man.
The young cow moose, entangled in a wire fence was cut free then promptly attacked her savior.
It is a simple reminder that moose are wild and unpredictable animals.
CBC News Link: West Kelowna Moose Rescue
Late in 2015 a moose became stuck in a mud pit. Fortunately for the Lucky Moose a CN Rail crew happened to spot the unfortunate animal and helped out.
In another case in 2015 snowmobilers came to the rescue of a moose that was buried by an avalanche. Alaskan Snowmobilers Rescue Moose from Avalanche
---
Moose Hunting Tips Book -
The Ultimate Guide to Moose Hunting
On Sale Now!
Exclusive offer to our newsletter subscribers!
Get get an early start on moose season. Get the Moose Hunting Tips Ultimate Guide to Moose Hunting. Now is a good time to get one for your hunting partner too!
ON SALE TILL MARCH 1st, 2016 Two-for-One
Buy TWO Print & eBook Combos and we will include the second print book for free.
SAVE 50% off the regular book price!
Add 2 Print & eBook Editions Combo to your cart and enter the following discount code -->> ULTIMATE20162626
Only need one? We haven't forgotten you... Buy one Print & eBook Combo and receive a 30% discount, enter the following discount code -->> ULTIMATE20163737
Offer Valid until March 1st 2016
Over the years I've had several requests to create a book that has all the best moose hunting tips in it. Well, as most of you 'regular visitors' know there are a lot of moose hunting tips on the website, a few of which were written and shared by you.
The problem can be; what to search for? How do you find a specific tip if you don't know what to call it?
I gathered up all the best moose hunting tips and moose finding ideas I could and created a book.
The book, now in it's second edition has 57 chapters and is 150 pages long. Wow!
It's available now for purchase. Simply visit the webpage to access the Add to Cart links. Or click here (for download & print combo)>>>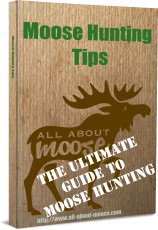 Don't forget to enter the code to get the discount!
---
Development: New Moose Call
We are in the planning and testing stages of introducing a new moose call for 2016!

The call is to be modeled after the original Birch Bark Call but will be made from fiberglass.

Each moose call will be voice tuned to give the most realistic sounds of cow and bull moose to draw those elusive creatures in from the deep and dark woods.

The calls will be slightly heavier but more durable than the fragile birch bark calls and will stand up to the rigors of moose camp.

Last fall I tore a gaping hole in my Birch Bark call while raking a tree trying to intimidate a bull into showing himself. I'm happy to say this will no longer be a worry!

Stay Tuned!

All the best,
Mark Allardyce
"The Moose Man"

PS: Feel free to forward this Ezine to your friends.

PPS: Please help us to become the "BEST" moose resource on the web by submitting your stories and sharing your knowledge.

https://www.all-about-moose.com Always updating with new recipes, pictures, hunting tips and stories.

Follow us on Facebook