Shipping moose over US/Canada border
by Cole
(Michigan)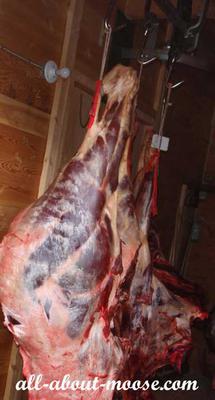 Aging Moose Meat
How do you go about shipping moose to the US from Canada. Customs says you have to prove that it is moose, how is this done?


---
As far as I know shipping moose meat across the border is no problem as long as you can identify where you got it usually by showing a valid hunting license and tag for the harvested meat. If you are transporting an animal that someone else shot, you will need a letter stating all the information from the hunter as well as a statement of permission.
You also need an Export Permit from Canada. Depending on the province the way you get the permit can vary as well as the fees are different. It is best to check into this in advance.
A few years ago my friend was transporting moose meat from BC to Alberta and was told the permit takes up to 30 days to get!
Wild game meat from Canada
"Hunter harvested game birds (pheasant, quail, goose, etc.) or cervid carcasses (e.g. deer, moose, elk, caribou, etc.) from Canada may be allowed entry when the importer is the hunter and presents to the Customs and Border Protection officer evidence such as a hunting license that the product is hunter harvested wild game."
More info available here U.S. Customs and Border Protection... https://help.cbp.gov/app/answers/detail/a_id/207/~/regulations-for-importing-meat-%2F-wild-game-products
If the meat has been processed then the butcher should clearly mark packages as to the content.