Hi,
Welcome to this issue of the All About Moose Alerts Newsletter.
You'll always know when a message is from me by looking for [All About Moose Alerts] in the subject line or the "The Moose Man" in the "from" email address.
In This Issue:
Moose Hunting Season is On Now
Fibromas Tumors
Moose Hunting Quiz #15
Riding a swimming moose video
---
Moose Hunting Season is On Now!
Moose season is upon us. Or at least for a lot of us. Many of our readers, including myself depend on having a freezer full of organic meat to consume over the coming year.

We share our bounty with our extended family and none of it ever goes to waste.

Someone asked me just yesterday what was my favorite moose recipe. It didn't take me long to answer moose roast. And on that note we are cooking one for dinner tomorrow.

What recipe is your favorite? Don't forget to share your best ones and please do include a picture.

We are exited to be getting ready to go on our annual moose hunt. My Dad who is 90 years old is coming along to rough it while we sleep in a wall tent.

He'll be keeping that wood-stove full of wood, no doubt we'll have to double our efforts to keep a good supply on hand for him.
---
Fibromas Tumors
Sometimes moose are observed with large growths on their bodies and can be very ugly to look at. In most cases these growths are benign fibromas tumors and do the animal no harm.

Also for the hunter who shoots (or chooses not to because of) an animal with these growths, not to worry.

We have just published an article about this phenomenon... Fibromas Tumors
Moose Hunting Quiz #15
Have you ever thought of a moose hunting question and didn't have the answer to it?

Carl submitted a very interesting question. Do you have any comments yourself? Moose Quiz #15 Would you like to see us develop a Moose Hunting Exam? Please let us know.
Riding a swimming moose video
Have you seen this video? It happened in BC this summer.

(I have not included the link because I don't want the publisher to benefit from it. You can search it on YouTube if you really must see it.)

I want you to know this is not cool! Disturbing/harassing wildlife while swimming is an offense and is punishable. The wildlife conservation officers in BC are looking for the culprits who did this.

Observe|Report to your local Authorities!

Report All Poachers and Polluters (RAPP) WE DO NOT SUPPORT THIS TYPE OF CONDUCT

One of the reasons I bring this topic up is that on a recent camping trip some fellows from England were camping beside us and were quite excited to be heading to Bowron Lakes to do a seven night canoe trip around the chain.

The younger of the two exclaimed he was looking forward to riding a moose. He'd seen it on YouTube!

I was quick to point out that he should NOT be doing any such thing and why he shouldn't.
Moose Hunting Tips Book -
The Ultimate Guide to Moose Hunting
Now Available in Print
Over the years I've had several requests to create a book that has all the best moose hunting tips in it. Well, as most of you 'regular visitors' know there are a lot of moose hunting tips on the website, a few of which were written and shared by you.
The problem can be; what to search for? How do you find a specific tip if you don't know what to call it?
I gathered up all the best moose hunting tips and moose finding ideas I could and created a book.
The book, now in it's second edition has 57 chapters and is 150 pages long. Wow!
It's available now for purchase. Simply visit the webpage to access the Add to Cart links. Or click here (for download & print combo)>>>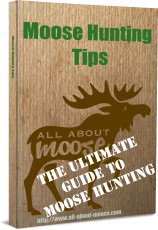 All the best,
Mark Allardyce
"The Moose Man"

PS: Feel free to forward this Ezine to your friends.

PPS: Please help us to become the "BEST" moose resource on the web by submitting your stories and sharing your knowledge.

https://www.all-about-moose.com Always updating with new recipes, pictures, hunting tips and stories.

Follow us on Facebook