Distance Between Walking Moose Tracks
by Mette
(Denmark)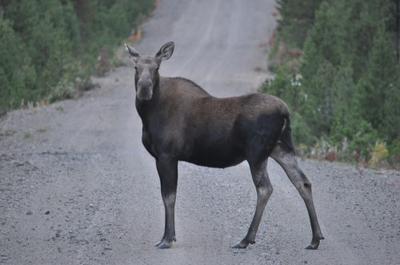 Check out those long legs! They can cover some ground!
I was wondering how far apart the individual moose tracks would be from each other if an adult moose of regular size was waking?


==================
How Long is a Moose Stride?
Adult moose walking stride is 1 1/2 meters to 2 meters, but it can lengthen to more than 2 meters when they trot or run.
The moose stride is greater than that of a horse.
How fast does a moose travel?
Moose are estimated to trot at 9.6 km per hour (Dixon 1938). In 1943 cottam and Williams measured a moose running at 56 kilometers per hour.
Are Moose Good Swimmers?
Moose are excellent swimmers. The fact that they have a split hoove helps them to paddle more powerfully. Of the deer family in North America, only Caribou can swim further and faster than the moose.
How Far Can a Moose Swim?
Moose have been observed to swim as far as 12 to 20 kilometers.
What is the Moose Gait Like?
Moose are built like an endurance runner. Their bodies, legs and feet are built to carry them quickly and efficiently across soft ground.
Ever seen a mule deer stotting?
To Stot: It is a stiff legged jump. Calf moose have been observed doing this activity around its mother.