About All About Moose
The story behind Mark and All About Moose
I have been engaged with wildlife and the outdoors my whole life and although moose didn't play a large part until I was almost thirty years old, I honed my outdoor and hunting skills chasing other game.
Growing up before the age of computers and internet, never did I think that I would be able to influence people around the world to go out and experience the great outdoors.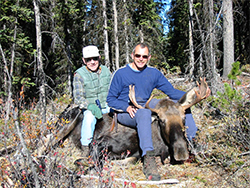 My Dad and I with a Young Bull. I called this Bull out to the edge of a cut block before I shot him. We had arrived at our hunting spot while it was still dark, and after making only a couple of Cow calls this Bull responded. It took over an hour for the bull moose to reveal himself. I was beginning to learn all about moose.
I can still remember the first time my Dad took me big game hunting; mule deer hunting actually. I was seven years old and riding in the backseat of the car. Mom and Dad were busy looking out the side window (the car was stopped) at something that had caught their interest.
Turning away, I looked ahead of the car to see a Mule Deer silhouetted by the setting sun. "Dad, I exclaimed excitedly there's a coyote on the road". I had yet to learn exactly what a deer darkened by the back-lit sunlight looked like. My Dad turned to see the deer and quickly corrected my error.
Dad exited the car but unfortunately the Deer ran away and he didn't get a chance to shoot. I learned right there and then that you don't always get your game, regardless, I was captivated.
Throughout my youth I didn't get many opportunities to go hunting but I did spend a great deal of time outdoors, exploring the wilderness while fine tuning my backwoods skills.
From the time I was eighteen years of age, when the fall came, I was either hunting, or I was dreaming about hunting. In the early years I hunted mainly for deer and then I switched to hunting North American Elk. During the six years I hunted Elk, I learned a tremendous amount about tracking, spot and stalk tactics and calling game.
The fall of 1989 was to be no different until I received an invitation from my uncle to go moose hunting. I decided I should give this new species a try. I would have to learn all about moose to be successful, I became determined. I recall, as a young boy my grandfather telling me Moose Hunting Stories and as I grew older I heard more stories from my uncle and my father. I had always been intrigued with the idea of Moose Hunting but I had never actually gone before.
It is with great sadness that I must post the passing of my Uncle. I have written a tribute to him. He was my inspiration to become a moose hunter and I will miss him.
So.... I went Moose Hunting.
That first year we saw many Cow Moose but we did not see or get a Bull (we were hunting for Bulls). Several other hunting parties in our area did however, and because so many other hunters enjoyed success, and also because I had such a great time, exploring and participating in the great outdoors and learning about moose.... I was hooked. I very much enjoyed the experience of Moose Hunting and at the end of that first trip made plans to return the following year.
So here it is, with the fall on the horizon, my hunting partners and I have already started to plan this year's hunting trip and we are all looking forward to it.
So what does all of that have to do with All-About-Moose.com?
A couple of years ago I attended a personal development course and I came away with a mantra,

"My goal is to encourage people, to go out into the outdoors,
to participate, explore and experience excitement and beauty."
I have always enjoyed helping and teaching people so adapting this statement was easy. So I decided to share what I have learned about moose.
Thus my goal, by building this website about moose I hope to encourage you to go out and find an experience in the outdoors that you too will share with others.
If you are at all interested in having your own website and you have a topic you would like to share with the world; you should check out SBI.
SBI now stands for Solo Build It (formerly Site Build It), an all inclusive web design and hosting manager. Using the built in tools anyone can build a website, I used them to create this site.
I've written a review about Site Build It if you are interested in knowing more about building your own website.

I've heard it said that everyone knows something about something (hobbies, passions etc.)and there are thousands if not millions of people out there looking for your information.... You should share it!!
On occasion I suffer from writers block. It is not insurmountable, you just need to sit down with an idea and write.
Update January 2011: In December 2010 I monetized this website. Now I make money while I sleep. You can too! Turn your hobby or passion into a stream of income. Read more about why I built this website.

Top of About Me and All About Moose
Return to All About Moose Home Page