ATV Trailer Plans
How will the ATV Trailer Plans benefit you?

We have customizable plans for an ATV Tub Trailer with four axles and walking beam suspension for you to build. The walking beam arch keeps your load level even when traveling over extremely rough terrain.

Have you been looking for a ATV utility trailer plan for your ATV, Quad or Argo? Look no further!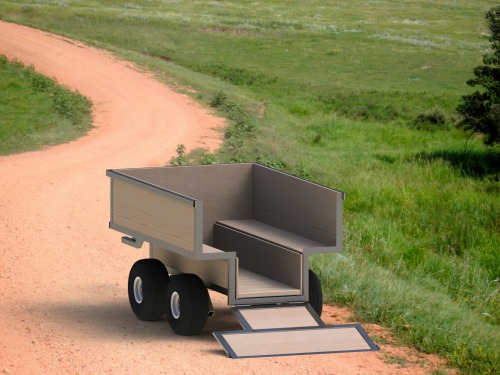 ATV Off-Road Trailer

Our plans will make building your ATV off-road trailer easy. Each item is labeled on the drawings and again on the cut lists so you don't get confused. With multiple views and solid drawing rendering the blueprints for the trailer are extremely easy to understand.
Worried that you don't have any blueprint reading experience? Don't be! The drawings are done in such a way that even a novice can understand them.

The ATV utility trailer plan was designed using common to purchase steel angle iron and tubing and the trailer will carry all the loads you can throw at it.

Our trailer (shown above) is shown sheeted with treated plywood and planking but you are free to use whatever type of material is at your disposal or fits your budget.

Skip down to the bottom of the page for links to pages of ATV Trailers built by others using our plans or to submit your own.

Save Time and Money

Using our detailed plans you'll save hours of time trying to find out the information and details to build this style of ATV trailer. Details which include material dimensions and cut-to lengths including angles.
You'll save money too! How?
Our detailed material list shows each piece required you'll only have to cut your pieces once. That equals less scrap material and in the end more money saved doing this type of project.

About the ATV Tub Trailer

To keep the cost of your trailer down we suggest using 1/2 or 5/8 inch thick treated plywood for the sides of the trailer and for the bottom floor.
If price is not an object for you then aluminum sheeting or checker-plate would work really well too. If you have access to a fabrication shop you might also consider building only the lower portion of the frame and having a tub formed out of sheet steel or aluminum.
Although, that option is not really in the realm of the home do-it-yourself-er.

Our tandem axle ATV trailer (for Argos and Side by Sides too) is designed with a goose neck so the tongue doesn't hang up when you pull the trailer over logs and we also designed the trailer with a tailgate for ease in rear loading.
HINT: I've seen receivers added to the front of the box to accommodate hand or electric winches too!
Our latest trailer will have a manual winch mounted to the removable trailer tongue. We'll just cut a hole though the front of the box to run the winch strap through. You can see it here.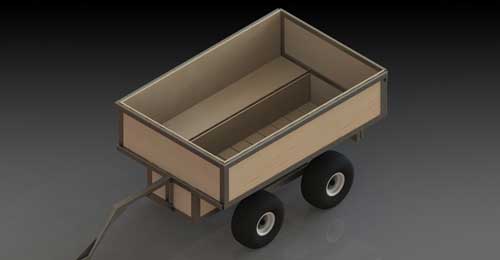 ATV Utility Trailer Plans

A few people have built tow behind ATV utility trailers with the plastic tub as a one piece liner. The plastic liner may not be available in your area or it just might not fit your budget.

The plastic or completely sealed trailer box is good for giving the trailer some flotation... if that is important to you. That also means you have to load everything over the side; plan to put some sort of drain in it.

The option is yours. Customize and build the ATV trailer with or without the tailgate.
Rough dimensions of the trailer box are: 72" long (without hitch), 46" wide (at top) and 31 inches high (not including tires).
You may wonder just how much will it cost to make this trailer? We spent just over $1000 in CDN ($890 USD) funds to make it. This amount covers materials only, as we did our own cutting and welding.

Walking Beam Wheel Arch
What is a Walking Beam Axle?

A walking beam is a fancy term for the axle support. The walking beam on our ATV trailer allow your loads to stay level even when going over extremely rough terrain like logs or large rocks.
With fixed axles if a trailer is pulled over a large log, rock or other obstacle the ATV trailer can very easily tip over on its side.
Here is a short video (30 seconds) showing animations of the ATV Tub Trailer walking beam, tailgate and exploding view.
You can also watch us build our ATV Tub Trailer at 10X speed (23 minutes).

Walking Beam Assembly and Welding

Above photos: are sample of the dozens of photos included with the download to help you with your trailer build.

What's included in the ATV Utility Trailer Plans?
Here are a few thumbnails from our ATV Tub Trailer blueprints to check out. Click on images for larger view.

You'll receive a PDF file which will include multiple views of the trailer. The ATV Utility Trailer plans include 27 pages of detailed dimensions, materials and 3D views.
NEW: Now includes 15 pages with more than 40 photos showing lots of detail.
That's 42 pages of detailed information at your fingertips!

These include the following layouts:

Assembly Layout
Bottom Frame
Main Frame
Front Frame
Tailgate Frame
Top Frame
Wheel Arch

Views include:

Front
Side
Exploded
Exploded ISO (Isometric)
Isolated Details
Material required and cut lists including angles are included for each component to make your build easier for you.
Trailer Store Bought Parts
The following parts are ones you'll need to purchase for building your trailer. The Duro Tires can be ordered on-line for a very reasonable price.

1 - Class II 2 x 1 7/8 in. Trailer Coupler

4 - 1,250 lb 4-Bolt High Speed Trailer Stub Axle (We purchased ours at Princess Auto)

4 - 8 x 7 in. ATV Tire Rim (4 bolts on 4" BCD) (8" rim dia. X 7" width)

4 - Duro 20 X 7 X 8 HF240 ATV Tires
     (Tires are specified outside diameter X width X rim dia.)

2 - Weld-On Hinges
Everything You Need

| | |
| --- | --- |
| All the ATV trailer steel, cut and laid out to give a visual reference. | After the tires are mounted to the rims. |
Buy the ATV Trailer Plans:
ATV Trailer Plans (PDF Download Version)
Only: 39 USD


ATV Trailer Plans (Print Version)
Only: 79 USD


ATV Trailer Plans (PDF Download & Print Version)
Only: 79 USD

The print version is currently available to ship to Canada and USA. For international shipping inquires please use the contact us form and we'll get you a quote.

This is a great DIY ATV trailer; if you don't have the capability to do the welding yourself, then take the Trailer Plans to your nearest fabrication shop and have them build it for you.
NEW: TRAILER SWIVEL HITCH

Now available: Plans for the Trailer Swivel Hitch (as seen in the video) More info...

ATV Trailer Swivel Hitch (PDF Download Version)
Only: 14 USD
Rock solid money back guarantee. If you are not 100% satisfied with your purchase of the ATV Trailer Plans within 60 days of purchase we will refund 100% of your money... you even get to keep the plans.

That's how confident we are that this resource will help you build an ATV Trailer easily.

| | | | |
| --- | --- | --- | --- |
| Fitting the U-Frame | Clamp it flat before welding | Fitting the left side lower box frame | The lower frame assembled with the U-Frame |
| Fitting middle frame | Fitting Upper Frame | Welding Bottom Side | Attaching Wheels |
Note: We found it necessary to add a brace from the U-Frame to the middle frame.
Watch this video to see our latest trailer, I think it's a winner; don't you?

Hints and Tips:
Building an ATV Tub Trailer

Add a grease nipple to the swivel arm of the walking beam. Drill and tap a 1/4" NTP hole centered in the DOM tube so you can grease the swivel. A second option if you have access to a machine shop is to drill and tap the C1045 rod so the grease nipple is accessible from the side of the trailer.
The axle wheel arch can be retained in place simply by welding a washer onto the end of the C1045 rod. Be sure to preheat the rod to about 200 degrees F before welding. I've heard of some using a bolt and retaining washer, but I doubt anyone will ever have to dismantle the walking beam.
Consider building a swivel hitch for your coupler. If your trailer ever does roll over at least then the trailer won't take the ATV over with it or cause extensive damage to your ATV frame.
We built our trailer with a removable hitch reach. That way the trailer won't take up as much room when being transported.

Building your trailer without a tailgate will reduce the overall weight of your trailer.
Add a hand winch to load heavy items from the rear with the tailgate in the lowered position.
Another useful idea may be to use some more of the 2 X 2 x .250 HSS square tube and extend it from the front frame to the axle. Only required for those who will hauling extreme loads!
---
Share Your Build and ask Your Questions

Show us your DIY ATV Trailers
Have you built an ATV Trailer using our plans? Or do you have a question you need answered.
Would you like to show off your handy work to others and inspire them to build a trailer of their own?

Here is the place to do it!

(Having troubles uploading pictures? Use the contact us form and we will email you back.)
See ATV trailers that others have built.
Click on the links below to see contributions from others. They were all written by visitors to this page...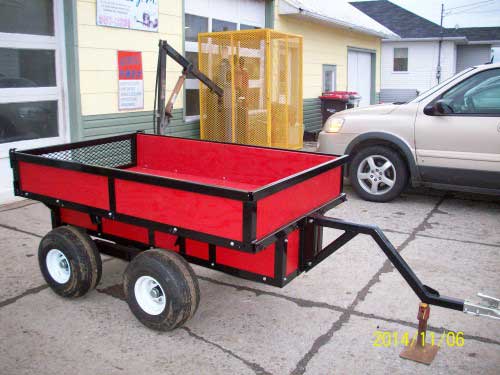 Lionel sent us this picture of the trailer he built using our plans.
He said this about the plans, "It is easy to use. My friends find that I have a good and beautiful trailer."
› ATV Trailer Plans