Puntzi Lake Ranch ATV Utility Trailer
by Alex
(BC)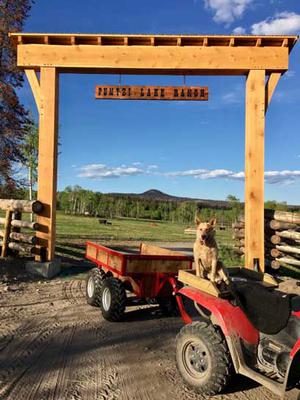 The Puntzi Lake Ranch ATV Trailer
We purchased your plans in September, and are now just starting the process of building two trailers for our ranch. The first one which is under construction, will follow the plans to a tee. Thanks as they are great!

We have a question on the second trailer - we will be using much larger tires (25 x 12.00-9) and want to distribute the weight front to back (there will be a toolbox on the front of the trailer to carry ranch tools and spare equip parts). The question is: because these are larger tires, just how much farther can we extend the main part of the walking beam so that there is sufficient distance between the two tires on either side? Is there a set of plans that reflect the longer wheel base that we can use and anything in particular that we need to be thinking about? We are in Vancouver and up in the interior - if easier to discuss over the telephone, very happy to call.

Thanks very much!


---
Hi Alex,
Good luck with your builds. It is an awesome and HD trailer.
As far as using larger tires or a longer wheel base. I can't say that I have any experience there (or plans). Sorry about that! ☹
Considerations would be:
1) Plan for having 3-4 inches space between tires. Even in the plans I think the axle to axle spacing could be shortened. We've had some people comment they feel logs and such can get between the tires, although we have not experienced issue that ourselves.
2) The walking beam itself is quite strong if you are using 1/4 wall tube, so I don't think extending the length of it to accommodate larger tires is an issue. With the larger tires, you may also need to lower or drop the C-Channel down from the main frame to give the wheel arch room to swing. You will have to play around with that and see what it looks like. Remember though if you do that, you are raising the center of gravity and the possibility of tipping is therefor greater.
3) Because of the walking beam style and your plan to incorporate a toolbox, you'll just want to build the entire frame with tongue attached before you determine the location of the C-Channel for the walking beam swivel points. Do that so you'll achieve some weight on the hitch when the trailer sits empty.
Hope this is of help.
---
Hi Mark -
Almost finished with our first of two trailers and it looks awesome! Will send pictures when complete - just in the "paint shop".
Question as to where we can find two pieces:
The "swivel hitch plain bearing" ("brass oil light plain bearing washer"); and
A trailer coupler with a 1 1/2" channel size (I've found tons of them in 2" and larger)
Any suggestions would be great - thanks very much and very excited for finished project!
Rgds, Alex
---
Hi Alex,
That's great news! I'm looking forward to seeing the finished products.
I buy the washers at Wajax Industrial Supply in Port Kells and the hitch at Princess Auto Coquitlam.