Customized Moose Keychain
Wouldn't it be so much fun to have a Moose Keychain? These great little keychain fobs also double bottle opener as well... check them out. 
Anodized aluminum moose shaped keychains, available in 8 colours. You can add text to both sides. However, beware the more text you add, the smaller the text becomes.
The moose keychains are about 2 1/4" long, 2 1/8" high with a thickness of 1/8"
Ideally the maximum number of characters (including spaces) that you would add will be 26 on three lines. We will make your text as large as we can to fit the engravable space.
The text is laser engraved onto the Moose Keychain and you can put on whatever you like as long as it fits the parameters set out above.
They are supplied with a 1" diameter split ring to conveniently add your keys.
Sample Custom Moose Keychain
Available Colours for the Moose Keychain
Black
Blue
Green (limited number available)
Red
Silver
Turquoise
Pink
Purple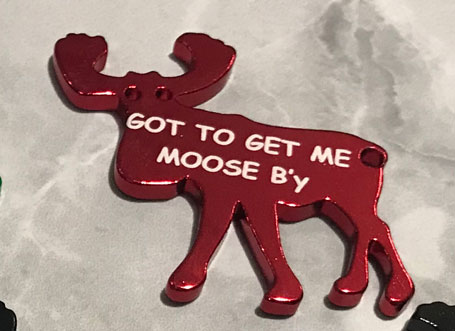 Add your own fun quote!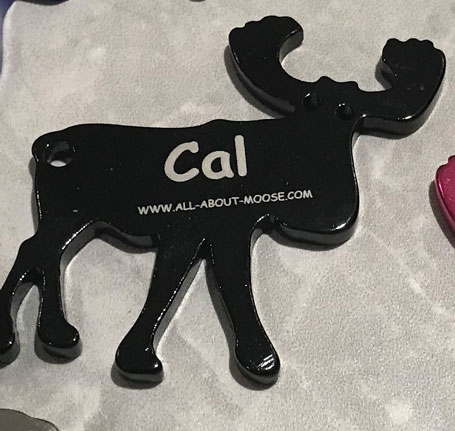 Add your name!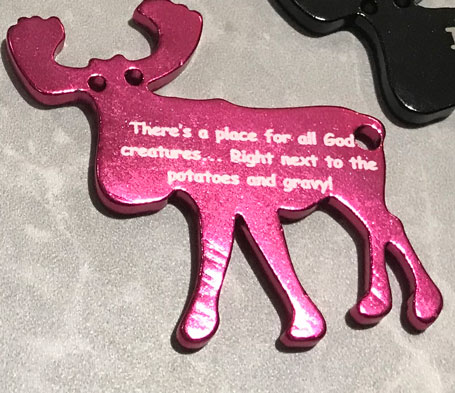 Don't add too many characters!
Put your own personal touch on it. Have a favourite caliber that you hunt with? How about the brand of rifle or scope you use.
You can have fun with this! They make a great gift for yourself or for your favourite hunting buddy.
Of course, the text you write doesn't have to be hunting related at all! Your choice.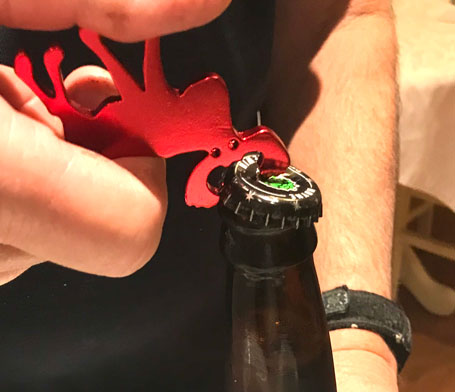 To order your Personalized Moose Keychain (did I mention it is also a bottle opener?).
Just type the Text eXactLy how U wanT it written in the two fields of the form below.
Choices could be:

ALL UPPERCASE
Word Case
Sentence case where you have something to say.
miX iT uP and B DiffERent!
Currently the only way we can offer font selection is for you to type the one you want into the text box. American Typewriter is used if you don't choose.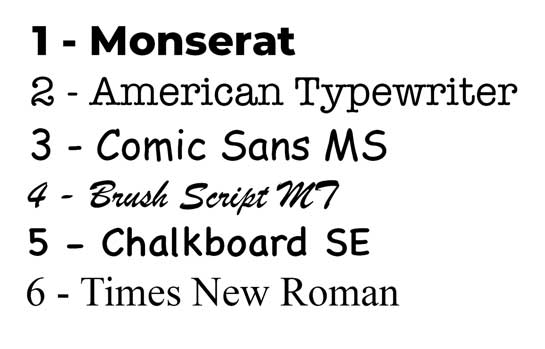 Price: $14.99 with free shipping to USA and Canada
FREE DELIVERY CANADA & USA
If you leave the text fields blank there will be no text added. Be sure to spell check your words as we will copy your text EXACTLY and engrave it as you write it. If there is an spelling error, we will assume you want it that way.
Returns/refunds are not accepted, but if you have a problem with your order, please contact us.