A Fly-In Moose Hunt
Our fly-in moose hunt was booked and we showed up at the float plane dock with enough gear to provide four moose hunters with their needs for hunting and fishing for ten days and with any luck at all we might catch a pike or two during the day when moose are not on the move. Our group was lucky, we didn't have too many miles (kilometers) to fly, so that should keep the cost down. Right?
As the mountains, lakes and meadows appeared in front of us, in my mind I wondered if the pilot will remember to come pick us up in 14 days as we had previously arranged. 
Suddenly, as the Beaver took a hard left turn, I looked down through the pilots window and saw the cabin sitting on a point. How nice! I soon lost any doubts I had. I was about to embark on an adventure I would not soon forget.

How do You Get Out There?

There are three types of small aircraft that are typically flown by bush pilots to take you from your point of departure to your lake or other remote area of your choosing.
The Cessna
The first and smallest aircraft used for fly-in trips is the Cessna Aircraft. The Model-185 can carry 700 pounds whereas the Model-206 carries a payload of 800 pounds. This plane can seat 6 including the pilot, but carrying that many passengers will severely limit the amount of storage space for equipment.
The Beaver

The second and most common aircraft used for flying sportsmen to and from the wilderness is the workhorse plane, the Beaver.
 
The Beaver has substantial load carrying capabilities and will carry 1200 pounds. Some of the load can be stored in the pontoons (if set up with floats) on these very versatile aircraft. The Beaver can carry 6 passengers in addition to one crew member.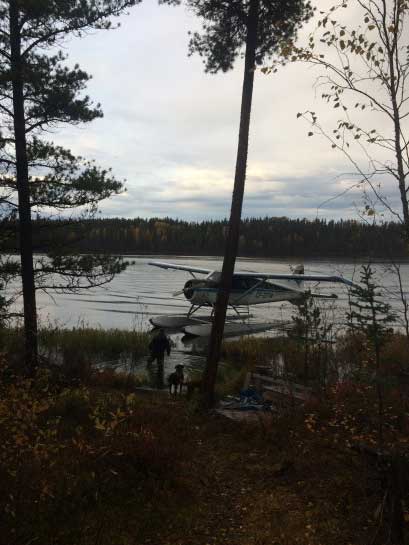 Our Chariot - The Beaver
The Otter
The 3rd type of aircraft used for fly-in trips is the Otter. The Otter has a very large payload capacity of 2300 t0 2500 pounds. The Otter is typically used by the forestry and mining industry to ferry workers and equipment to and from work sites. The Otter can seat 9-10 passengers in addition to the pilot.
 
That's not to say that a group of hunters couldn't or wouldn't hire one, but the cost dramatically increases when using this aircraft.
NOTE: weight capacity is an average for these styles of planes. It depends greatly on model upgrades, consult with your charter to be certain of how much you can bring. Air charters are insured to carry X number of passengers, that means just because a particular type of plane can seat 6 passengers, doesn't mean the operator is allowed to ferry that many. Also, the further the flight, the higher the aircraft must climb to clear mountains also means it needs more fuel. That translates into less capacity for it's passengers and equipment.
The Weight of your Gear matters on a Fly-In Trip

Weigh your gear and include your own weight! It is prudent to know before you go just how much weight you have. Aircraft CANNOT safely carry more than its capacity, so don't show up at the charter with more than you are allowed. You will be asked to leave some behind.
 
The advice I got form one air charter was for clients to buy as good (and light weight) equipment as you can afford when it comes to gear. IE: Purchase one really good sleeping bag rather than bringing two bulky ones. You need to cut down on bulk and weight otherwise you end up sorting at the floatplane base. When that happens it puts the pilot at risk of being late for next clients. Be courteous and be prepared.
 
Another really good way to cut down on weight on your fly-in trip is in your food preparation. Don't take canned food! Take dried food, it takes less space, is very light and doesn't taste too bad either.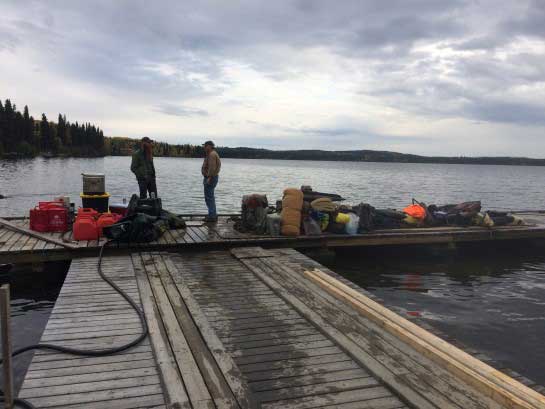 All of our gear waiting on the dock
Leave the beer at home too! (About 20 pounds per 24 cans) You have to pay for the weight and you also need to bring those empty cans back out. Show respect for the back country and only leave footprints behind.
How Much Does all this Cost for a Fly-In Trip?

You are probably wondering about the cost of hiring one of these charters to take you out to that lake where you hear the giant fish are in great abundance.
 
Unlike commercial airlines, charters are priced by trip, not by seat. Most operators have a minimum charge based on fifty statute miles (all air charters I spoke with calculate by the mile) or eighty kilometers. This is a one way distance; in other words you will pay for one hundred miles if you fly that far or not.
 
The Cessna is the least expensive with the average price for the #206 set at about $5.25 per mile (high of $6 per mile), where the #185 may be a few cents less.
 
Next in line is the Beaver where prices for fly-in trips range from $8 - $9.25 per mile, so that minimum trip now costs you between $800 and $925 to get to and from your hotspot.

This is where you need to have a number of guys, a lot of gear or deep pockets. The Otter is going to cost a whopping $1400 to cover that fifty mile radius.
 
These price of course are per flight. If you need more than one flight be prepared to pay.
 
When we flew out to our remote lake destination, it was 2 flights in and 2 flights out... that cost us $900 per leg, or $3600 plus GST. Our pilot was gracious and got us out with two trips, although we figured on 3 out. One of our guys had to leave early and our first load out wasn't as full as it could have been. Weight wise we were OK, we just had a lot of bulk.

› Fly-In Moose Hunt
Want to learn how to hunt moose? Or are you wanting to increase your moose hunting skills?

Look no further!

Our moose hunting tips book is written with not just the novice in mind, there are tips in the book that even the most seasoned moose hunter will find of value.
The book includes 57 chapters, with more than 150 pages of information, jam packed with tips, techniques and discussions - The Ultimate Guide to Moose Hunting!