Moose Hunting
You.... can succeed!
Moose hunting success...

What does it take to be a successful hunter?

A hunter is dependent on having the right information and the best equipment to do the job.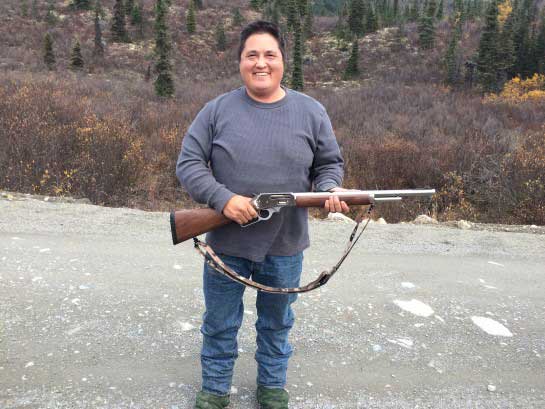 The Marlin 45-70 is often a choice for hunting moose in Grizzly country. As this hunter in the Yukon Territories has done.
Although success can be measured in a number of ways, if you are not in the right area or you have inadequate equipment your trip or maybe your trip of a lifetime can turn into one that you prefer to forget rather than remember. Sometimes all it takes is to get a few hunting tips to set you on the road to success.
The Right Information for Moose Hunting

Our first ever moose hunting trip was unsuccessful (September 1990), but we learned from our mistakes and have been successful every year since.  That first trip we spent a lot of time learning the new area, driving up and down every road we could find. We walked into meadows, followed creeks to find beaver ponds, climbed mountains and scoured every inch of the area that we could in the time we had.
During that inaugural trip, looking for moose sign really was the key to our future success. We found that not everywhere we went moose sign was present. Taking note of the sign that we discovered we were able to narrow down the areas of moose concentration, that is to say we found some locations that obviously had more moose traffic than others (core areas).  It takes a considerable amount of time to find these pockets but by doing so you will increase your success ratio.
While hunting it is always important to practice bear safety. As hunters, we sneak around in the woods, therefore it is inevitable that we sneak up on bears from time to time. Do you know how to deal with a surprised bear?
Grizzly Bear caught on a Spypoint Trail Camera
Read about this Yukon Grizzly Bear.

Once you have narrowed down the areas where the highest concentration of moose sign is, you can then focus on the moose hunt itself.
Speaking of high concentrations of moose, read this article about Newfoundland Moose hunting, likely the highest concentrations of moose in the world.
Have you ever wondered how moose are hunted in other parts of the world? Is Moose Hunting in Scandinavia any different than in North America? Techniques definitely differ from those used in NA.
Learn How to Hunt Moose
Visit our how to hunt moose page for some great moose hunting tips. Clint, one of our site visitors asked several questions... all his questions are answered on that page.
Cal in his article Hunting Late Season Moose, offers some great tips for the later part of the season.

We recently paid a visit to the Yukon Territories and hunted along with some new friends. Hunting the Yukon is not always what is depicted during hunting shows on TV.

Be Ethical

When you hunt moose, follow your own code of ethics. Don't be swayed into doing wrong. Hunt, fish and gather and do so in a manner that does not adversely affect others, yourself and our land.

How to Find Moose
Pick the areas with the greatest amount of sign and hunt them. Frequently returning to those areas where Moose are likely to be found. Watch for fresh sign as you travel to and from these areas, you may find a spot where the Moose cross.
Keep our moose hunting tips in mind; with the wind in your favour as you travel, you don't want to be spooking the game out of the area you are heading to.
This particular area that we like to go moose hunting in is like home to us now.  We know the area so well we have named all the little pockets that we hunt so when I describe to my partners "I hunted OWL road today", they would know exactly where I meant.
By returning to the same area, year after year, even using the same camping spot, we are able to concentrate on hunting rather than exploration. I cannot stress enough the importance of getting to know the area in which you hunt. Endeavor to get to know everything you can about the area in which you are planning to hunt: find those hidden meadows, willow thickets, beaver ponds, wallows, and moose trails.
If you are ever confused about certain definitions used for hunting, have a look at our hunting definition page for clarification of some of the more common terms about moose and moose hunting.
Hunting From a Canoe?

Before you go hunting from a canoe, you need to do some research: safety precautions, what to outfit it with and what kind of canoe do you need.
 Hunting moose from a canoe can offer up its own challenges and rewards.
A solo river drift moose hunt of epic proportions. Cal shares yet another great tale from a successful moose hunt. New friends, physical hardship, enduring the bitter cold... success.

We want to know what rifle caliber you use for moose hunting. Please participate in our survey.
If you want some information about guided or un-guided Alaska moose hunting, please visit our page. It contains some good information if you are just starting your research.

Best Equipment
Every year we review our moose hunting supplies. Sometimes we feel we have add to or take away from our list of what we consider essential preparation. Visit our moose hunting supplies page too see a list of some of our gear. It is vitally important that your equipment not fail you at the moment of truth.

Preventive Maintenance
A number of years ago there was a hunter camped near us whose Pickup Truck had broken it's control arm (main component for steering) at the end of a logging road on the back side of a mountain. Fortunately for the hunter it was morning so his LONG walk back to camp was not in the dark. By the time he managed to have repairs done to his truck he lost almost four days of moose hunting from his trip.  This error in judgment could have easily been repaired just by having the truck maintained before he left home.
A different year a hunter showed up at moose camp with an alternator that would not charge AND he had no heat in the cab of his truck. He too lost several days from his trip. Can you imagine driving around in the wilderness in winter like conditions, with no heat......Umm, No that would be silly don't you think?
Just How Good is Your Equipment?
How about the guy that shows up at camp, goes out hunting, finds a moose to shoot at, raises his moose hunting rifle and looks through the scope to shoot and all he can see is clouds, or what appear to be clouds. Huh? Moisture has gotten inside his scope and you cannot get rid of it. For this hunter the trip was over!! It is important to purchase quality rifle scopes.
Have you or someone you know ever tried to clean an animal with a dull knife or a one that will not hold an edge for more than a couple of strokes. If you don't use a quality knife you can bet your job at eviscerating an animal such as a moose (or any animal for that matter) will not be pleasant and will take considerable effort. Would you cut a steak with a butter knife? Of course not if you have a steak knife available.
Why? Because a sharp knife requires much less effort to do the same job.
You need to have good equipment! The kind that does not leak, break, or wear down quickly. It does you no good to get to hunting camp and find out those Boots you got Such a Deal on leak or do not keep your feet warm. Cross hairs that fall out of scopes, binoculars that do not focus well, knives that will not stay sharp, tents that leak, flashlights that won't light, GPS's that will not work within a hundred feet of a tree, never mind in the forest and I can go on.
Buy the best you can afford, it sucks to be a two hour plane ride away from anywhere and have anything fail. It is just a bad to be a couple of hundred kilometres into the backwoods and have some breakdown or become of no use. Inconvenient? You bet! Plan for these things in advance.

Fall of 2009; this year found my partners and I back at our favorite moose hunting location, which by the way is in Northern British Columbia. Through the application of our acquired skills and good equipment we were able to harvest three bull moose.  Hunting from a natural hunting blind I called this one I called to 25 yards! Of course there are some good advantages to tree stand hunting for moose too!

I personally use and really like the Petzl Tikka Plus® 2 Headlamp.
My hunting partners and I work late into the night to skin out the Moose and cool the carcass as rapidly as possible. This step is extremely important to result in good eating meat.
The scar you see on the moose shoulder is just hair rubbed off from being dragged down a logging road far enough that we could find a place to load it into a truck. This one field dressed to 692 pounds. That translates to about 1400 pounds when he was standing in the meadow and that is why you'll need help to get it home.
To drag a moose down the road, we use rope and lots of it to retrieve our moose on our hunting trips. If you are using rope you need to learn how to tie rope knots. Ones that are strong and can be untied, learn how to tie our favorite rope knots.

Moose Meat IS Good to Eat!
We hear negative comments regarding Moose meat a lot. Of all the moose we have harvested, we have never had one that tasted "Gamey" (strong flavour - like Mutton). We are convinced it is the care of your meat in the field that makes the difference. There are also some precautions you can take before cooking that will make your moose meat taste and look better.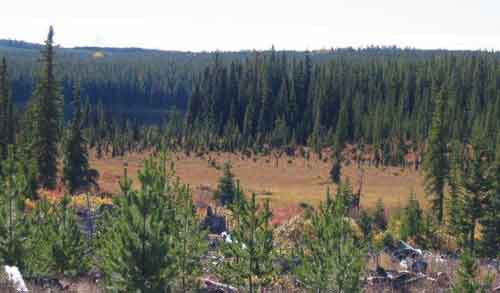 If you look in the areas that moose frequent, do the right things, wear the right clothes, be aware of your surroundings, use the wind to your advantage and go into the wilderness prepared.....
You just might get your sights (or camera lens) on that elusive moose.

Want to learn how to hunt moose? Or are you wanting to increase your moose hunting skills?

Look no further!

Our moose hunting tips book is written with not just the novice in mind, there are tips in the book that even the most seasoned moose hunter will find of value.
The book includes 57 chapters, with more than 150 pages of information, jam packed with tips, techniques and discussions - The Ultimate Guide to Moose Hunting!
A good reference for hunting or fishing is the Outdoor Canada Magazine. On occasion they have some good moose hunting articles.

Top of the Moose Hunting Page
Return to All About Moose Home Page