Outdoor Canada • Like Nowhere Else on Earth
Outdoor Canada - Home of the Mounted Police, Moose and the Canadian Beaver. Can you believe that we have our heritage associated with a... "rodent"? But Hey! That's Canadian.
Canada, the best place on Earth. Moose and moose hunting in every province, what more can you ask for!
Provinces of Canada hold the best of the best of outdoor viewing. From west coast to east, you can find something to please everyone. From the 49th parallel in the south to the Yukon and Northwest Territories in the north you are going to be enthralled with the wildlife and lands that you see.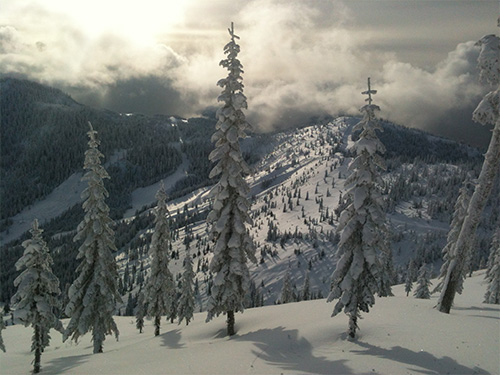 This photo was taken high in the mountains of British Columbia on December 8, 2012
The area known as Hemlock Valley is along the edge of the Fraser Valley about an hour an a half drive from the city of Vancouver. Beautiful, deep snow creates this awesome setting.

Canada holds the distinction of having some of the best moose hunting and viewing in the world. I cannot think of anywhere I would rather stare down the elusive moose.
Hey everyone if you have not done so already check out Outdoor-Canada Magazine: The online version of Canada's national fishing and hunting magazine. Contains articles, advice, forums, tips, Canadian fishing and hunting resources.
About Outdoor-Canada Magazine
For three decades Outdoor-Canada has been the leading national authority on Canada's great outdoors. Today's Outdoor-Canada offers traditional outdoor enthusiasts stories on Canada's best fishing and hunting adventures and destinations, along with the latest news on gear and techniques from the country's most respected outdoor experts.
They have a great brag board too. A place to post your picture of any type of Canadian Game.
Please, if you are going to post about moose or moose hunting do so here on All About Moose.
Want to learn how to hunt moose? Or are you wanting to increase your moose hunting skills?

Look no further!

Our moose hunting tips book is written with not just the novice in mind, there are tips in the book that even the most seasoned moose hunter will find of value.
The book includes 57 chapters, with more than 150 pages of information, jam packed with tips, techniques and discussions - The Ultimate Guide to Moose Hunting!
Return to the Moose Hunting Page
Return to All About Moose Home Page