Have You been out Bow Hunting Moose?
Tell us about it!
Do you have a great Bow Hunting Moose story? Would you like to share it?
It's easy to do!
Just fill out the form below and post your pictures and stories. Please... if you have moose pictures to go along with your stories, do include them. It is always nice to have some sort of relevant picture to go along with the story.
I am relatively new to the sport of moose archery hunting, for the last two seasons I have hunted moose with my compound bow but I have yet to connect. Although I have harvested many moose in my years as a moose hunter taking up the bow has really intensified the challenge. For instance last season we went for a two week moose hunting trip, for the first several days I hunted with my bow but did not see any moose.
George took this moose this year with a single arrow from 35 yards. The bull ran only 75 yards before he went down!
That will be a good eater for sure.

FYI: Studies have shown that the average distance animals travel after the shot is approximately 75 yards.

Moose visit the edges of these type of meadows late in the evening and early morning, you will not often find a moose out in one of these wide open spaces during the day. Hunt the edges especially if you are bow hunting moose.
Moose prefer areas where the openings are less than 100 meters across.

As the days of the hunt progressed the pressure to get a moose increased..... Figuring, that my chances of getting a moose close enough for an archery shot would be tough and I really wanted some meat for the winter, I switched to my rifle (I shouldn't have, read on...)
The tenth evening out my son and I set up on the edge of an old logged area and commenced calling. Calling by the way is an extremely effective way to attract moose. It was not long before we had a bull moose responding to our calls. Each time I would call the bull would respond and we could tell by sound of his voice that the bull was getting close.
Moose Bow Hunting Video 2012
Last season I managed to entice the bull in the video out of the woods, but not close enough for a shot. Archery hunting for moose is an adrenalin rush for sure. North America's largest land animal, close up and personal!

When bow hunting moose or any big game animals it is always advisable to aim at the vital areas of their body; this of course is also true for rifle hunting. To do so, the absolute best thing is to wait for a broadside shot. I really dislike damaging any more moose meat than necessary; therefore when I shoot I try to wait for a non-moving broadside shot.
When this bull finally showed himself, and as he moved closer, he just was not offering this to me. The moose continued his approach, advancing as I continued to coax him closer (using a Birch Bark Call and making cow moose sounds).
---
| | | |
| --- | --- | --- |
| You can find more information regarding moose hunting in our Moose Hunting Tips Book. All the information in the book can easily be applied to archery moose hunting. | | |
---
Because he was following the lower edge of the bank below us, I reasoned that if I called over my shoulder that he might continue along and then offer that broadside shot I was looking for.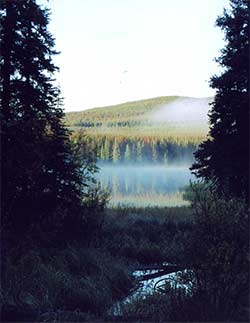 You can see the mist hanging over the lake in the early morning. An ideal location for bow hunting moose.
Well, you know you cannot control the movement of any wild animal, and this bull was going to be no exception. He had pinpointed exactly where the cow moose sounds were coming from and so......
....instead of continuing below us as I wanted, he ran up the bank as stopped at the crest of the hill. He stood Broadside at 20 Yards perfect for bow hunting moose. You can well imagine, I did not want this moose to come any closer than he was, and he did offer the broadside shot I was looking for. I took him right there.
I was elated to say the least. Moose down, now the work begins!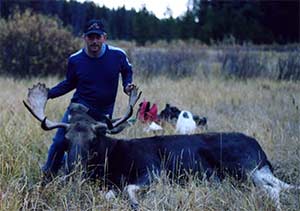 An early morning Moose (just light enough to get the picture without a flash).
Side Note: If I had only persisted hunting with my bow; maybe I would have received the same opportunity to harvest that moose. Well, I guess there is always next year to try bow hunting moose.
My Bow Hunting Stories

2010: I did it, success in 2010. Read the full story of how I finally harvested a moose while bow hunting.
2011: I was back at the same location this year and I was fortunate enough to get a second bull moose using my bow. Not without some difficulties and emotional lows though.
2012: I had a lot of close calls this year. I actually had one bull, broadside and stationary at about 40 yards, but alas I shot low and he got away.
I saw more bulls this year than any other, 11 all together. Three of them were within range, two didn't offer a good shot.
I came home mooseless! I went to therapy afterwards! Hahaha!

2013: Our moose hunt in 2013 was also successful. Probably one of the most bizarre hunts I have ever experienced. This bull actually followed us down the trail... crazy as it may seem!

Bow Hunting Moose at its Finest (YouTube Video)

Here are a couple of archery moose hunters calling in a nice bull. The bull walked straight in not offering a broadside shot. At about 10 yards the archer came to full draw. Uh Oh! The bull spotted the movement and froze. Watch as the archer holds at full draw what must feel like eternity. Finally the cameraman grunts and gives a cow call and the bull moves... actually walking closer! The archer, encouraged by the cameraman to wait for a clear vitals shot waits for the moose to turn. A frontal shot right through the chest. They found the arrow fully embedded in the moose, up against the pelvic bone. Check it out... Nicely done boys.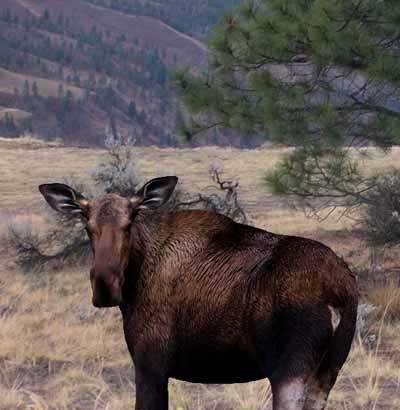 For these hunters a Montana Moose Decoy may have made a big difference. The archer was fortunate enough not to be injured or killed! If they would have used a decoy to draw the bulls attention away, they could have avoided that close call.

Moose Hunting Tips for the Bow Hunter

Literally hundreds of moose hunting techniques at your disposal. If you are passionate about hunting moose, this book is for you. You will find detailed information about getting close to moose. So very important for bow hunters.
Check out the Ultimate Guide to Moose Hunting and watch your bow hunting moose skills soar!

Now it's your turn to share...

Your Best Moose Bow Hunting Stories?
Share Them Here!
What was your funniest or most dangerous moment? Did you make a good shot... or not? Did you have to do a lot of tracking? What kind of equipment are you using? How do you get your moose out of the bush?

Read Other Bow Hunting Moose Stories
Click on the links below to see contributions from others. They were all written by visitors to this page...

Want to learn how to hunt moose? Or are you wanting to increase your moose hunting skills?

Look no further!

Our moose hunting tips book is written with not just the novice in mind, there are tips in the book that even the most seasoned moose hunter will find of value.
The book includes 57 chapters, with more than 150 pages of information, jam packed with tips, techniques and discussions - The Ultimate Guide to Moose Hunting!
Return to Bow Hunting Moose Page
Return to All About Moose Home Page