Archery Cow Moose Hunting
by Laurie
(Timmins, Ontario, Canada)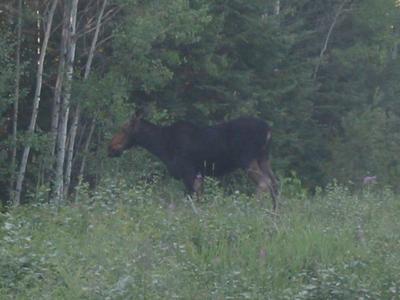 Cow Moose Standing Near The Treeline
The one that wasn't meant to be...


I have been hunting for 13 years. I am a 38 year old woman, and since the day I got my licence I have hunted everything, upland game birds, ducks and moose.
I live in Northern Ontario, Canada and after 11 years of moose hunting with my trusty old .303, I made the switch to hunting with a crossbow.
I had applied every year to the moose draw with no success; until this year.
I was so ecstatic!! A cow tag. My very first one!!
Waiting from August 1st, when you find out the results of the moose tag draw, until September 15th opening day for archery was like being a 5 year old waiting for Christmas morning.
It finally came and my boyfriend and I packed up for 9 days of hunting, which to us is "Heaven".
Day after day, we either put time in the tree stands which had showed promising signs in the area, but suddenly was silent. We walked at least 3km daily following fresh tracks, fresh scat, and seeing many bulls, including two fighting over a cow, who slipped out of sight in the blink of an eye when the two behemoths starting thrashing the bush.
To make the hunting more difficult, we had a pack of wolves constantly following/chasing the moose in our little zone.
On day one, sitting in the peace and quiet of the tree stand, I could hear in the distance a calf bawling, and then two different wolves howling, the repeated for at least
20 minutes, before I didn't hear the calf any more.
Fast forward to the end of the trip. I leave empty handed, but still happy to have had the week out. My boyfriend and I decide that the Friday of thanksgiving long weekend here in Canada is the last day for archery and our last shot at getting the cow.
So we pack up again for a weekend, and off we go. Needless to say the wolves are still very active and we see nothing. Saturday morning, my cow tag for archery has now downgraded to a calf moose licence for the gun season, and I figure "why not"?
I am still out here to hunt.
Off I go to my favourite cut, and sure enough, what do I see? First thing in the morning as the mist is still hugging the ground? A big cow moose, making her way into the bush, taking the time to stop and look at me.
To say the least, I turned into a "girl", my eyes watered and I felt damn sorry for myself for a few minutes.
I saw three other cows that very day, but only got the picture of this one first thing in the morning. I am terribly sorry for the quality, the mist definitely made the picture not quite as clear, but take a good look at this cow.
This was the cow that wasn't meant to be.
Always one step ahead of me, until this very morning. Eye to eye, I watched her walk away.
Until next year :)