Our Best Moose Hunting Stories
One of many Moose Hunting Stories...that I like to tell is the one about a Little Red Fox.
This one begins where I was traveling down an old logging road that I was unfamiliar with. I had not traveled far when I chanced upon a vehicle parked in the middle of the road (the road was narrow, there was nowhere else to be stopped). The vehicle was unattended with the doors left wide open.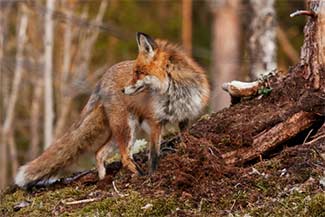 Do you have a Story about Moose Hunting you would like to tell? Share it with us here!
If you have hunted big game before you recognize a vehicle left in this condition as: the occupants likely saw something that caught their interest, or they saw a Moose (everyone in this area was hunting Moose)and left their vehicle in a hurry.
I could see down the road past the truck, there were three men standing near the side of the road. They didn't really appear to be doing anything, they were however, intent on watching something. Normally, just out of respect I would have turned around and left the area to these hunters, but this was intriguing.
Here we are cooking up a roadside lunch after the morning hunt. We are most likely telling past stories about Moose Hunting.
What had caught the attention of these men? As I approached to talk to these gents, I could see that indeed they had something to look at. There were two freshly killed moose, one on either side of the road. But, this is not what really caught my attention!
Funny thing was though, these moose hunters were not really paying attention to their newly acquired trophies. They seemed more intent on looking at the gut pile. I have seen quite a few gut piles in my hunting days but none of them had ever caused me to stare at them.
At this point I was getting close to the hunters, they motioned me closer and at the same time signaled me to keep quite. "Now this is strange!" I thought to myself, why on earth would I want to go look at the contents of a moose chest cavity, especially if I need to be quiet about it?
I was soon to see the reason why. I had barely arrived, when, at the edge of the forest a Red Fox appeared. Completely oblivious to our presence the Fox went straight to the visceral, bit off some fat and retreated into the forest. "Wow! That was Cool!" "How long has this been going on?" Apparently from about the time the Moose Hunters had finished cleaning the Moose, this little Red Fox had shown up and started helping himself.
I stood and watched in amazement as this Fox made trip after trip, obviously storing the food to be eaten at a later date. "This will make a great Moose Hunting Story," I was thinking to myself.
What is your favorite Moose Hunting Story? Would you like to tell it?
The road in the story is within our current area in which we prefer to hunt Moose. Anytime one of our group members hunts this road, he always refers to it as Fox Road. Do you do that too? Name places or roads in your hunting area after familiar things!
Another source of moose stories, albeit not hunting stories is - Moose Tales. It's an anthology of eleven short stories about moose.

The balance of this Moose Hunting Story unfolds like this.
These gentlemen had been hunting this area for 10 days, and up until this day had not even seen a Moose. This, their last morning out before they headed home at lunch time was to be quite different than all the past days. They had gotten out of bed extra early this day to hunt an area they had not gotten to during the past 9 days. They arrived at the end of the main road before it was starting to show even the slightest hint of daylight. If this was to be their last day of Moose Hunting, they wanted to make the most of it.
As the morning progressed they hunted every meadow and road they came upon while they worked their way back toward base camp. Running short on time, it was decided to hunt down one last road. Shortly after leaving the main road they spotted a Red Fox crossing the road ahead of them. After traveling to the end of the road, they began the trip out. Disappointed, knowing they were heading home empty handed. About one kilometer from the exit, there, standing in the center of the road were not one, but three Bull Moose. They told me the moose were standing head to head, as though they were having a meeting. It turns out these moose were in the same location as the previously seen Red Fox.
The rest of the moose hunting story is inconsequential, they shot two of those moose. And you already know the rest.
If there is a moral to this story it would have to be, "Never Give Up – Maybe you'll see a Lucky Fox".
Once in a while you see some amazing things while you are out wandering in the wilds of Canada. On one occasion I stumbled upon a family of black bears. Not so unusual you say... well the sow had four cubs. Now that IS unusual! Click here to read the story about what I did when faced with this family of bears.
Take lots of pictures and come back here, post them and share YOUR Moose Hunting Stories
For me, 2010 was a good year. I harvested my first moose using a bow. Read my moosehunting story.
Moose Hunting Stories 2012

While out hunting this season I made some new friends. Fred, who was one of the party of three managed to harvest a big moose.
I received this amazing moose hunters story of survival and was asked to share it. One doesn't often think of moose attacking, but just as a wounded bear is dangerous, so too is a wounded moose. As north Americas largest land animal, nothing could be worse that being charged by a huge set of antlers.

Moose Hunting Stories 2013
The latest story I've heard about a moose attacking a hunter. The animal was injured and down but still managed to charge the hunter who was extremely lucky to walk away from the moose attack uninjured.

Moose Hunting Stories 2018
Here is a fresh one just in from the Yukon Territories. My friend Robbie from the Yukon, shares his experience from their moose hunt this year.
I felt it deserved a full feature page... I Was Getting Frustrated
Here is yet another hunting story submitted by Robbie. He relates how in the far North, friends helping friends goes a long ways.

Want to learn how to hunt moose? Or are you wanting to increase your moose hunting skills?

Look no further!

Our moose hunting tips book is written with not just the novice in mind, there are tips in the book that even the most seasoned moose hunter will find of value.
The book includes 57 chapters, with more than 150 pages of information, jam packed with tips, techniques and discussions - The Ultimate Guide to Moose Hunting!
YOUR Best Moose Hunting Stories?
Share Them Here!
What was your funniest or most dangerous moment? Did you make a good shot... or not? Did you have to do a lot of tracking? What kind of equipment are you using? How do you get your moose out of the bush?
Read Other Best Moose Hunting Stories
Click on the links below to see contributions from others. They were all written by visitors to this page...

› Moose Hunting Stories