Moose Hunt with Peppi
by Fred
(Ontario)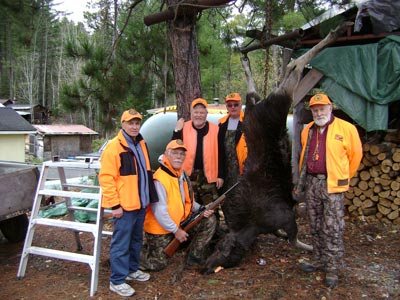 2011 Moose Hunt with Friends
There was five of us (Doug, Harv, Don, Tony, & Fred) headed up to Manitou Lake to Hunt for Moose. Calves only as we had not drawn a Bull or Cow Tag.


We started hunting right away as we went up the second week of Moose Season.
The weather was Cooling, Damp & Raining. Rained most of the week we were there.
We found the one spot that seemed to have some pretty good signs of Moose so we proceeded to hunt this area.
The one morning Don & I watched a Cow Moose graze on the far hill from us.
So we went back that afternoon till dark to see what we could see. Just as it was turning dark & Don was packing up to call it a day the Cow Moose reappeared again but this time with a calf.
Don was about 500 yds over from me & all he could see was the Cow. The Calf was about another 50 yds over from the Cow.
As they both descended down the hill together into the ravine & out of my sight, Don was coming out the same ravine.
It was gradually turning dark & I thought for sure he would have seen them & pushed them out to the road where I was waiting, but nothing happened.
I asked him if he had seen them & he said he only seen the Cow early that afternoon by herself. I told him I seen them just as he was packing up to come & this time she had the calf with her.
Well, the day ended with us both trying to get our stories straight as to when we had seen the Moose.
Bright & early the next day in the pouring rain Don & I decided to go out there again.
We decided to both go in his pick-up & I left Peppi back at Camp & told the guys if they didn't want to go out on there A.T.V.'s to take Peppi out.
Well it was still pouring rain but Doug & Harv came out in Doug's pick-up & sat near us hoping to get a shot at this calf we were after.
Pretty soon along came Tony in Peppi & as he stopped by where I was watching in the
pouring rain, we gave each other the thumbs up sign & I told him I was glad to see him out. He wandered up the Cart trail in slow pace & went out of sight.
About fifteen minutes later he came flying back & stopped in front of me & got out & shouted, I got one, I got one. I said ya right, you weren't gone long enough.
He said I'm telling ya, I got one.
He said get hold of the guys. I told him I would be in radio contact with Don at 9:00 a.m. which was in fifteen minutes & that Doug & Harv were right over there to go get them & I will wait for Don & meet up with you guys later.
He said OK & took off. In the excitement I didn't watch which way he went & when I finally got hold of Don & we got back to his truck, we ended up going the wrong way.
We could hear them on the radio but kept fading in & out.
Just as we got headed back there in the middle of the road stood one of the most beautiful Wolf I had ever seen, Huge, & of course we had no tag.
We finally got over to where Tony shot the Moose & congratulated him.
It was story time as to how the Cow wouldn't give him a shot at the Calf, etc. etc.
We found a trail just over from where he dropped it & with the help of the ATV out it came & we loaded it on the trailer & back to Camp we went.
We got back to Camp & got it hung up; it was Picture time & Party time.
We all got into some dry clothes, some food, a few drinks…lol & slept like logs that night.
It's always nice when a plan comes together. It was a great trip even with the lousy weather. We made the best of it, hunted hard & ended up with some nice meat for the freezer. A great time was had by all.
P.S. Peppi is my A.T.V. ... 1995 Geo Tracker ...if it wasn't for it, I don't think we would have got our Moose !
Fred Price (Pres. Triple X Hunt Club)