"MOOSE COPTER"
by Carl Kozak
(Hayward WI USA)
Here is a moose hunting story you will not forget!

My friend and I were archery hunting moose in the Canadian bush. We usually hunt in different directions to increase our odds then meet back at camp in the evening and share our stories of the day.


On the third day of our hunt my friend had a sore knee so he was going to sit and call all day from one location. He picked out a nice "bottle neck" with a nice small clearing in the forest and set up his folding cloth chair, sat down and began to call.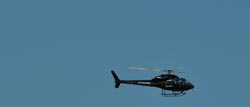 That evening when I got back to camp, he was almost crying with disappointment on how he came so close to bagging his first big bull moose and why he never got the chance. Here is what happened.
About 11AM he sighted a big bull at about 120 yards walking toward him posturing and grunting. He promptly started recording with his hand held video camera.
With in a few minutes he heard a distant helicopter, which didn't seem to affect the advancing bull.
However; the helicopter got louder and he started to get nervous that his chance at this bull would be ruined. With in a minute this huge helicopter with five men aboard was directly over head and descending in the small clearing in front of him.
The chopper landed only 18 yards in front of him. He managed to continue to record all of this even when the tremendous turbulent of the rotors blew him off his chair and sent his bow and knocked arrow flying.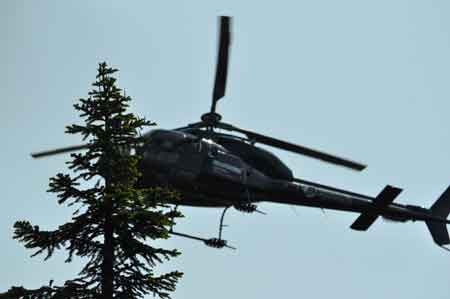 He did manage to get to his knees and recorded four men unload gear as the rotors were still creating a tornado like storm with gale force winds sending debris in all directions (the forest service had spotted a timber snag a distance away smoldering and their mission was to take care of it).
After the helicopter took off, the fire captain spotted my friend and was shocked to see him and couldn't believe he was not seriously injured.
The captain was very apologetic explaining the pilot did not see him in the bush and did administer first aid for his injuries from flying debris. The captain did mention he saw a big bull and wondered if my friend did. (Talk about adding insult to injury, this one really did.)
At first it was hard to believe his "bull" story, but after he replayed his video. I believed.
I know I will remember this story every time I hear a helicopter no matter where I am and know I will remember this hunt longer than the story if he did arrow this bull.