My First Shiras Moose
by Noah
(Denver, Co)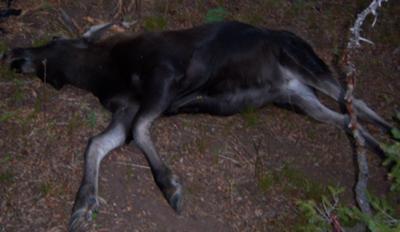 Moose Down... Now the work begins!
The sun broke over the horizon, casting an orange glow on the entire mountainside. My Dad and I sat in silence drinking coffee (our thoughts focused on the hope of my first Shiras moose), watching the wilderness world of Northwestern Colorado come alive, waiting for the light to get a little better, waiting for legal shooting hours to commence. The swirling winds of the early morning had died down, giving us hope that conditions were right to find the cow moose we knew were hiding in the area.

We have hunted this area numerous years, but our trips here earlier in the week resulted in swirling winds and no fresh signs. Even if we had found the critters those days, because of the winds we would have been busted and they would be into the next county before we could get a shot off. Today however would be different, our spirits were failing; our moods were worsening, so today had to be different.

I quietly slid out of the truck, closed the door and loaded the internal magazine of my Remington Magnum 7mm. The last round clicked into the chamber, the bolt closed, safety went on and I began my walk down the logging road. Dad stayed behind, resting his aching knees and taking in the scenery. He told me he'd be along if he was needed, but otherwise he would wait for me to make a sweep down the closed road, through the woods and back to him.

My mind was heavy with the events of the season so far, six days down only six remaining and so far the weather had been hot, the moose had remained hidden and we were seeing no sign anywhere.

Seven years of waiting to draw this tag meant I had to get a moose; failure wasn't an option but success didn't seem to be either.

We hunted the marshes, no success; we hunted the hills, no success. The only Shiras moose we saw was a young bull that had passed so close to where my Dad and I were having lunch that we could have reached out and touched him. He broke across a meadow and rushed towards us out of curiosity. He stood feet from us, testing the wind, decided that we weren't a threat and walked right by us. He milled around behind us for quite a while, eating, grazing and staring at us. It wasn't until we got up to leave that he decided we might be dangerous and hightailed it out of there.

The other thing about this trip is that I was finally seeing age catch up to my hunter partners. My Dad was struggling on two bad knees that need replacing. He grimaced through it, but the toll this hunt was putting on him was horrible. My Great Uncle decided that he couldn't physically meet the demands this hunt was putting on him and that he needed to leave camp. All my life these two men have been with me, and now it seems as though they will soon be leaving me to pursue game on my own. I can't imagine a time being in the woods when they aren't there when I take a shot, or wouldn't be there to help me pack out a downed animal. A tear slid down my cheek because I knew things would never be the same.

I was so distracted that I almost failed to notice the large bull moose standing to my left. I caught his movement as he headed down his well worn game trail. I decided to take a chance that there were cows with him and followed him down the path. It was a mishmash of downed trees and dead-fall and I couldn't help but think this would be the perfect area to find an elk. I caught glimpses of him through the trees, and watched as he broke into a small meadow and began mercilessly shredding trees. While he was doing this, four other moose moved through the trees behind him and I decided to see if there was a cow in the bunch. I cut across the mountain on another game trail and came to an abrupt stop when I saw two moose standing broadside to me less than 100 yards away. One was sporting spike antlers, well over the maximum six inch length to be considered antlerless. The other had no headgear, so my rifle came to my shoulder, the safety slipped off…Now was the moment I had waited so long for.

The report of my rifle echoed across the valleys below us, shattering the tranquility of the morning. I immediately prepared for a follow up shot, but none was needed. My target was down and wasn't moving at all. I began shaking and couldn't contain my joy at the moment. I let out a yell and began to work my way down towards the moose, my first Shiras moose. It was then that the big bull decided to make his presence known. He stood over his fallen comrade, protection his friend 'til the end. We had a tense standoff, him bobbing his head, ears flat, snorting and me trying my best not to get charged. I got within twenty feet, using trees as a buffer in case he decided to have a go at me, but he thought better of it and decided to peel off and head back to the safety the forest offered.

I knelt by my animal, and noticed that what I had shot was actually a young bull that had yet to sprout antlers. He had small nubs but no real growth. I gently touched him and said a silent prayer of thanks for him giving his life so I could have a winter full of meat in the freezer. I heard movement behind me and turned to see my Dad making his way down the hill, smiling from ear to ear. I honestly don't know who was more excited at that moment. It took us nearly four hours to dress him out and drag him uphill to the waiting truck. By the time he was loaded we were exhausted but the adrenaline was still pumping. We made our way down the mountain, packed up camp and split for home.

We spent the remainder of the night skinning and prepping him for delivery to the butcher shop the next day. As I drifted off to sleep that night, I wished my Uncle could have been there for the big moment but was very happy I got to share that time with my Dad. I wouldn't trade our moments in the woods for anything.