Burns Lake Moose Hunting
by Chris
(Maple Ridge BC)
Christopher's first Burns Lake Bull Moose

It was the last week of September and we had two LEH Bull tags for our favorite moose haunts close to Burns Lake BC, MU 6-06.

I have hunted this area since the late 60's with my father and we have taken many moose outa the same local over the years. Christopher had been along on the weekend hunting trips since he was 5 and now at the age of 15 he was on his second Moose hunting trip to Burns Lake.


Christopher's First Moose A good bull
We had made the thirteen hour drive from Maple Ridge the previous day and had our camp all set up by late afternoon.
There was Christopher, Mike (the yellow dog ) Jatkowski and myself on this trip. Mike and I have hunted the area extensively and have had many successful hunts.
We were pumped!
There was that fall crispness in the air. The leaves were yellow and the skies were a beautiful fall blue.
We were glassing across Taltipin Lake and we saw two Bulls standing on the far shore and they were doing a bit of sparing, we could hear their grunts… the rut was on!!
As it late afternoon and darkness was quickly approaching, we decided to have dinner and get to bed early so we could get up at the crack of dawn and get after the bulls.
Sleep came easy after a few rums and being tired from the long drive. We were up at 4:00 am, a quick coffee and a raisin cookie and we were on our way.
We parked close the where we saw the Bulls and started down through the aspen stands to the edge of the lake.
It was like a cattle field in there, tracks were everywhere!!
Scrapes, mud holes (wallows) churned up and the scent of rutting Bulls; we were in their house. :-)
We soon hit a game trail that we have hunted in the past and we recognized right away that the fresh tracks were headed up hill and across the road to the cut block above the road.
We booked it outa there and headed to the skidder trail on the block, as are we were wandering up the block we hit fresh sign everywhere… tracks, droppings, we could see where they had been walking though the grass from the dew knocked off.
Then the Yellow dog says
"MOOSE!!"
And right in front of us is a big cow; she heads out then another cow then another WTF!!
Then I look off to the left and there he is, standing there, shaking his antlers and staring us down.
A beautiful BC Bull Moose.
So I grabs junior and said OK right behind the shoulder. I see that he is just shaking,
I whisper to him, "just like at the range… steady and squeeze…"
BOOM
off goes the 180 grain Nosler from the .30-06 moose hunting rifle.
It finds is mark with a big thud.
I say "pump him again!!"
BOOM, a second thud and the big boy moves off to the left and outa sight.
We can hear him in the bush coughing and sputtering… Jr and I go after him to finish him off and Mike circles around to the road to cut him off if he decides to walk out that way.
Next thing we hear is Mikes .30-30 blazing. 1 2 3 4 5 6 shots!
"Mike what are you doing?"
"Shooting at a moose!!" He yells back.
Seems the moose was just standing there and he gets buck fever! :-P He missed every shot! Ha Ha!
So he's yelling "I am outa ammo!!"
So we book it over there and just as we arrive, the bull walks out onto the road… Jr. finishes it off with one shot it falls on the opposite side of the road belly downhill.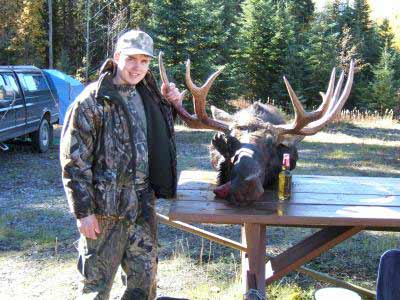 Christopher with a Burns Lake moose
Perfect for dressing and not only that, just 20 yards away is a turnaround so we just pull the truck and trailer alongside it.
Piece of cake!
Lots of high 5's and hooting and hollering Jr has his first BULL! :-)
In all the excitement we did not realize that it had clouded over and then it started to rain… and it rained… and it rained!!
By the time we had it dressed, hung, covered etc. it was dark and still raining :((
You know that saying, "soaked to the bone??"
Well that was us! After a hot bowl of soup and a hotdog we were sleeping.
The next day we woke up at the crack of 10:00 zzzzzzz
It was another clear crisp fall day. :)) When we looked back on the previous day we realized what a blast the hunt had been.
Well day two and another tag to fill, we were pumped and ready.