The Moose Were Not Cooperating and I Was Getting Frustrated
This year 2018 moose hunt started off pretty well, just like all our other Yukon Moose Hunts we do.
Who is coming, should we do a fly out, where to?
We originally had myself, Rob, Mark ~The Mooseman, Robs' Dad and Stan.  That would allow us three resident moose tags.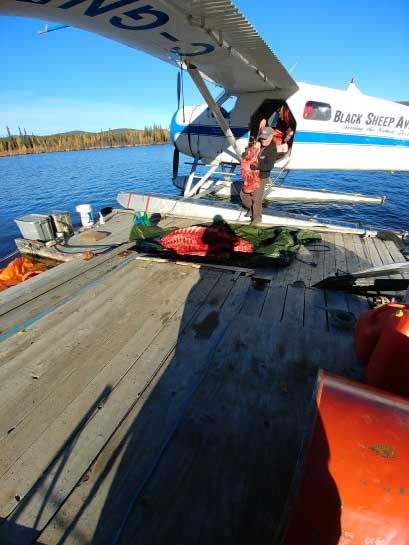 Unloading the two moose from Black Sheep Aviation's Beaver
Mark and Stan as it turned out, could not make the trip so Rob, his dad and myself agreed to go to our standby fly in lake 12 minutes flight from home. That would mean two tags between Rob and I.
For the next week we batted zero.  We did not hear any moose calling, or see anything. I Was Getting Frustrated!

We were originally planning to head further (fly) north about 45 miles to a fairly large lake to hunt where none of us had ever been before.  The further lake would be a lot more organizing so with our work commitments etc, we decided to go to the standby lake which has a nice cabin one small Zodiac I left in there a couple years ago, and all the amenities pretty well of home.

Logistically a lot easier. 

Our plan was to hunt and stay at the lake for two weeks.  I made all the arrangements and we were on schedule to fly in the Beaver with Rachel having to make 2 trips in and two out. 

The morning of September 18 was crystal clear.  Rachel had us and all our gear at standby lake at noon.  We need to wait at least 6 hours before we could hunt so decided to get the two zodiac's inflated and gear ready.

Moose Calling Frustration
On the morning of 19th I took one end of the lake and Rob and his dad the other of the 2 mile long lake.
In the afternoon there were the first moose I had the pleasure of watching.  A cow and two calves.  The calves I am sure were from this year so did not expect to see a bull, which I didn't.

Rob and his dad it turned out saw glimpses of two bulls fighting.  Rob figured he had to get wet to go for the moose; so he decided because it was only the first day... nope not happening.

For the next week we batted zero.  Our voices were getting hoarse from calling.  We did not hear any moose calling, or see anything. We Were Getting Frustrated!

We Had Enough! Time to go home!
On Thursday morning September 27th I used our SAT phone, called my wife and told her to message Rachel to get us out of here on Saturday which was three days early. 

Thursday afternoon I was down the lake calling and I had a bull respond.  He was a long way away.  By the time it got dark I thought the bull had been coming, though quite slowly.  Back to the cabin and told my story.

Rob left Friday morning at daylight to go down to where I had called the night before.  It was only a short time after Rob left us and there were three shots.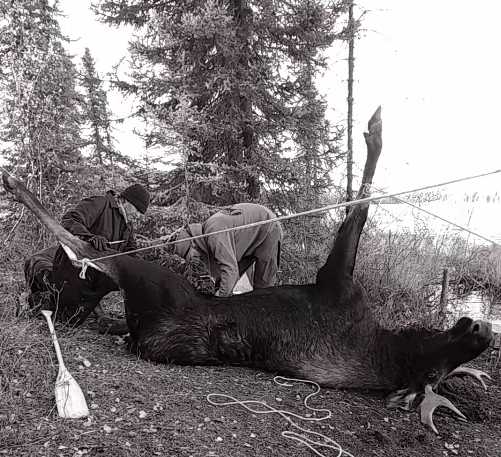 Once pulled up onto dry land the field dressing takes place. Much easier than standing knee deep in the mud and water!
We waited for Rob to come back and sure enough he had taken a bull moose which was now in the water.  We took both boats and headed down the lake to retrieve Rob's moose. 

We got to shore and were discussing how we would pull the moose up onto dry land, we heard another bull across the beaver dam area not far away.

The bull seemed to be walking away but a few bull grunts through the call and he was on his way to check out the intruder. 

He was snorting, thrashing the water only 30 yards away.  Bam! One shot with the 300 WSM Tikka, and he folded up.  Yup right in the lake. That was exciting! Within about 30 minutes, two nice bulls down.

We took care of Rob's moose first.  It was real good to have the portable winch with us to pull the moose out of the water and up the bank to allow us to dress out the moose on dry land.

Once Rob's moose was done then attention turned to the moose I shot. 

We were going to use the portable winch to pull my moose out of the lake as well but found that it was still floating.  May as well just tow it back to camp!
So I hooked on a tow rope around my 2 1/2 HP Mercury and towed the moose about a mile back to camp. 

We then used the portable winch to pull the moose up to dry land.
A Sudden Change in Plans
Later in the day I called my wife back and told her to ask Rachel to come in Sunday to get us instead of Saturday to give us a bit more time to deal with our sudden windfall.
As it turned out Rachel had an opening a day early and she showed up Saturday afternoon at 3 and was able to make one trip.  So we loaded the two moose and myself in the Beaver and I flew home. 
The thing about hiring bush pilots is you have to be prepared to move on a moments notice. We were originally to stay until Tuesday which was booked months in advance. If you need to change dates... you take whatever flights they offer.

Rob and his dad were picked up Sunday morning. The moose were not big by any means,  48 and 40 inch horns.  Can't eat the horns anyway. 
The northern pike fishing in the lake is incredible.  The largest pike caught this year was 52 inches.  Rob got that one.  I had one 46 and his dad a 50 incher.  We only kept smaller pike for a meal a day.  We need to take a set of scales in to weigh the fish... next time. 

Now onto caribou hunting for the last two weeks of October.  By the way Mark.  We left you some potato chips.  Missed you at camp this year. 
Robbie
Watson Lake YT
Want to learn how to hunt moose? Or are you wanting to increase your moose hunting skills?

Look no further!

Our moose hunting tips book is written with not just the novice in mind, there are tips in the book that even the most seasoned moose hunter will find of value.
The book includes 57 chapters, with more than 150 pages of information, jam packed with tips, techniques and discussions - The Ultimate Guide to Moose Hunting!
And don't forget to order one of our Fiberglass Moose Calls. In stock and ready to ship.

›I Was Getting Frustrated