Charlene's First Moose
by Charlene
(BC)
My first moose, Oct 14/2011. Near Prince George, BC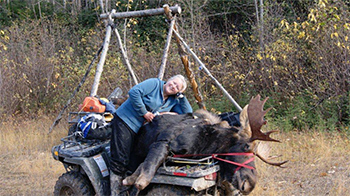 Extremely happy with her first moose, Charlene says she is hooked and will be back next year too!

We had spent a week hunting our tails off in this area earlier in the month looking for my first moose, but the moose were not yet on the move....it was still too warm we think....so after an unsuccessful week we went home empty handed. But returned a week later..
We hiked into one of our favorite spots up on a ridge overlooking a large (2km X 1.5km) swampy area just before first light. There were a few bulls spread out around the swamp, but we did not want a big tough old bull (we do have to eat it). So we passed on 2 really big bulls. About an hour later, this fella and another bull were at the far end of the marsh, fighting over 2 cows that had come out of the woods. This guy was the loser of the battle so as he headed towards where we were set up. Took him at 388 yards with a 30.06 ! What a great day ! Can't wait until next year :D
---
Congratulations on your first moose Charlene... and welcome to the moose hunting fraternity. HaHaHa
What a great shot too... 388 yards. Not many hunters can do that!
And you have also shown once again the the venerable 30-06 caliber is the best all round rifle and is more than capable to take moose sized game. According to our survey on moose hunting rifles the 30-06 is by far the most popular.