What are the axle lengths?
by T
Just bought the plans for the walking beam trailer but don't see a length for axles on them.
What is the axle length and is there a specific part number? Looks like you bought yours from Princess.


---
I did get the axles at Princess Auto, they are 9 1/2 inches in length. Link here -->>> https://www.princessauto.com/en/detail/1-250-lb-4-bolt-high-speed-trailer-stub-axle/A-p2080000e
They are on sale right now for $54.99 (Jan. 2017)
Join in and write your own page! It's easy to do. How? Simply click here to return to Do It Yourself ATV Trailers.
Axle spindle attachment to trailer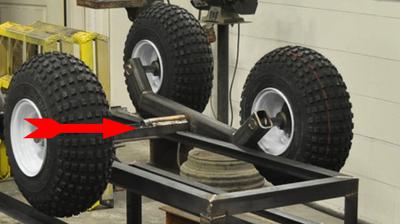 Swivel Pin Main Sleeve Welded to the C-Channel
From the plans I cannot see how to attach the center pin to the C channel on the trailer. To my understanding you take the center pin on the axle and slide in into the tubing welded to the c channel. Then you weld a small section on tubing on the end. Am I missing something? And pictures would help. Thank you.


---
Thanks for your question.
I'll do my best to clarify that for you.
You will see in the photo I have attached, the weld bead where the main swivel sleeve is welded to the c-channel.
Place the sleeve and swivel arch assembly onto the c-channel in preparation for welding. This is when you make sure your tires will clear the frame and they are square and parallel. (I find it easier to weld the small sleeve onto the pin prior to placing the main sleeve onto the c-channel.)
The main sleeve is smaller in diameter than the width of the c-channel opening is, we find it easier to place a small section of bar along side for filler for welding. See the sketch (not drawn to scale).
Trailer Weight and Carry Capacity
by Jeremy
(Alaska)
I was looking at your walking beam atv trailer, how much does it weigh? And how much weight can it handle? Does this tow easy behind a fourwheeler? Looking to build one for moose and caribou hunting in Alaska.


---
If you use our material list the trailer will likely be around 500 pounds (225 kg). Of course you may use lighter or heavier gauge materials which will greatly influence the overall weight.
We designed the trailer to be heavy duty.
Fill it up with freshly cut wood, no problem.
Put two moose in it, no problem.
Carry a load of aggregate, no problem.
Carry a full camp into the wilderness, no problem.
The dual axle design does make the trailer more difficult to maneuver than a single axle trailer, but the gains in having a walking beam and better weight distribution outweigh the skidding action of the dual axles.
That being said, it tows very well behind any Off Road Vehicle.
Join in and write your own page! It's easy to do. How? Simply click here to return to Do It Yourself ATV Trailers.
Want to learn how to hunt moose? Or are you wanting to increase your moose hunting skills?

Look no further!

Our moose hunting tips book is written with not just the novice in mind, there are tips in the book that even the most seasoned moose hunter will find of value.
The book includes 57 chapters, with more than 150 pages of information, jam packed with tips, techniques and discussions - The Ultimate Guide to Moose Hunting!