Moose Pictures
I want to share with you a series of moose pictures. They are not all of the same moose but the chronological order is here to show you what the life cycle of a bull moose might look like.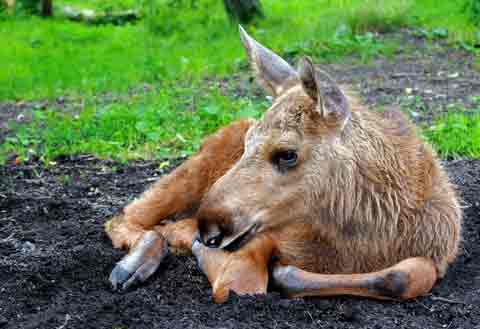 In this picture we see a Calf Moose. When a calf is born it weighs about thirty pounds and within a few days could easily outrun a human. At this age they are very susceptible to predators such as Wolves and Grizzly Bears therefore the mother or Cow Moose does not stray very far.
Fancy yourself a Photographer? Do you have Moose Pictures that you would like to share? Looking for another gallery to show off your Moose Photos? Please contribute to our Moose-Pictures pages, all our visitors love these pictures.
We dressed up our travel trailer with a moose/outdoors theme. You'll find a short description and more moose pics too.
This young Moose stands at the edge of a lake feeding on the aquatic plants that grow under the water. He stands watching and listening for his mother to signal him it is time to move along. To see pictures of cow moose click here.
This young Bull takes a drink.
In this Moose Picture you can clearly see the spots on the animals forehead where antlers will begin to form. Antlers only grow on the males of the Moose species.
Antlers start to grow in the spring and are covered in what most people refer to as velvet. Through the summer the antlers continue to grow... It is good to note here that the Antler size and number of points is mostly determined by the age of the animal. It is fair to say that a young Moose will have small Antlers, a Moose in his prime will have a very large set of Antlers, while an elderly Moose will have a somewhat smaller set.
Check out our latest contest too! The moose photo contest is where you will have a chance to win some awesome moose hunting supplies.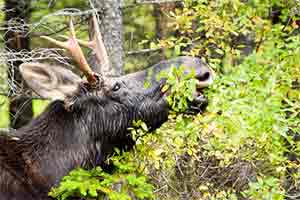 This Moose image shows a young bull eating the leaves of a tree. A Bull Moose will grow to weigh somewhere between 1200 to 1600 pounds with the latter being the Alaskan Moose.
Fall has arrived and the Bull finds it necessary to rub His antlers on trees to remove the velvet. In this picture you can see the strands of velvet hanging from the Antler. If the strands are long enough to reach the Bull will swing his head in such a way to catch the strands and eat them.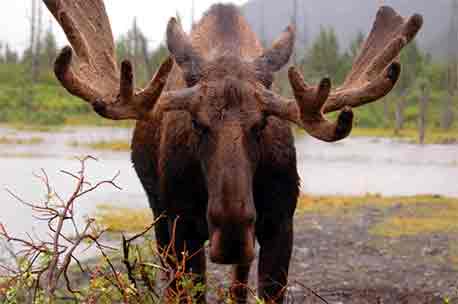 Here we see a picture of Mature Bull Moose in full velvet. He looks as though he is staring right at you!! And he doesn't look very happy.
In this picture we see a mature bull with all the velvet rubbed off his Antlers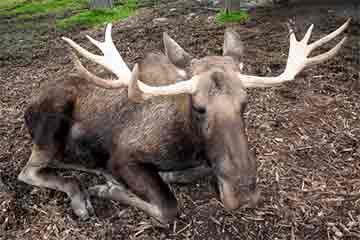 In this picture, the Bull Moose looks very old. His wide set Antlers without much mass; it would seem as though he needs all the nutrition he can get to maintain his body weight. He may fall prey to predators such as Wolves this coming winter.
Moose in-the-news! Earlier this year a young bull moose entered a closed down mill yard. Unfortunately for him, he wandered out onto a crusted over mill pond and found himself hopelessly mired in the muck. The local conservation was called upon to perform a moose rescue.
We recently had a visitor share her pictures of moose playing in her yard. She lives in the northern portion of BC and regularly has moose as visitors to the property.
A professional photographer (Richard Gait)who is visiting Canada from Italy to study wild horses, shared a series of unusual moose pictures with us. The pictures of moose would indicate that moose possibly have same gender relationships, or at least are working out their frustrations.
Interested in seeing more pictures of Bull Moose. To go to our bull moose picture gallery.
Do You Have Moose Pictures That You Love?
Share Them Here!
Upload your best moose photo with a brief story of where, when or how! Did you snap your picture while cruising the highway? Were you out hiking somewhere?
What is so funny about this picture or what happened while trying to take it?
See Others Best Moose Pictures
Click on the links below to see contributions from others. They were all written by visitors to this page...
Yearling Bull Moose






Last weekend (January) I took the family on an outing from the lower mainland over the Coquihalla highway up to the Logan Lake area. On the way we passed …
Drop Tine Moose






Trail Cam Picture 2011 of a drop tine moose. Hey Vince, Thanks for sharing your picture of the drop tine moose. He's a beauty! Nice palms with …
Guido






I call him Guido which is Ukrainian for "grandpa". I saw him trotting across the field one day while I was combining. So a while later, I took a break …
Mama and Baby Moose






Mama and baby in late May Greenville, Maine I watched these two for a long time. It amazes me how these big animals can be so gentle and loving. …
Bull Moose Dies in Crack in Earth






Bull Moose caught in crevasse; what a terrible way to die. Sometimes Mother nature is very cruel don't you think. I suppose that a lot of little …
Regal Bull Moose






This guy seemed to have no fear. Simply beautiful. This was actually the first moose I've ever seen in the wild. Talk about exciting!
Algonquin Bull Moose






The first moose we saw on our initial trip through the southern section of the Algonquin Provincial Park. This Bull Moose was older and seemed familiar …
Young Algonquin Bull Moose






On my first trip through the southern section of the Algonquin Provincial Park, I was lucky enough to see two bull moose. This was the second, and the …
Idaho Shira's Moose Not rated yet
I took this Moose in the Swan Valley region of Eastern Idaho on my hunting partner's (Father) 58th birthday. My first and only Moose harvested to date. …
A Young Hunters First Moose Not rated yet
Oct 2010 My son, Jesse's (11 years old) first moose ! Oh Boy was he ever tasty :D Thanks for sharing Charlene. Nice to see young people involved …
Lucky Moose Not rated yet
Oct 2010 we were out scouting our hunting area (bull draw did not open until the next day) we heard this one in the distance....couldn't resist calling …
Montana Moose Not rated yet
This photo was taken by a friend of mine on the Bison Range just north of Missoula. Hi Mark, Thanks for sharing this photo of the Montana Moose. It's …
Return to All About Moose Home Page
Like this page?

---
---