Moose with Deer Like Antlers?
by Joline
(Maine)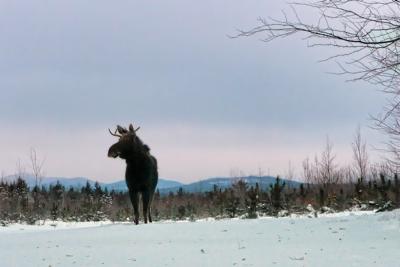 Majestic Looking Two Point Bull
There is a bull that I have seen frequently along our road. His antlers are much more like a deer than a moose. He is fairly large and seems to move well. I see him licking salt in the road, and last evening he was licking it from a car parked in a driveway. I wonder if this is a sign of old age, or illness.


Here are the pictures. One was taken on Jan.23 and the other on Jan 27 (the one by the car). I have seen moose all my life, but this is the first time I have ever seen one with antlers like this, and at this time of year. Thank you for your response. You may post the photos...I'll be interested to hear what others think.
I live in rural Maine. An answer to this would be appreciated.