Recipe Laser Engraved
Cutting Boards

Looking for an laser engraved cutting board? These cutting boards are a great gift idea for the hunter and or cook in your life.
Never again forget the recipe you used to cook moosemeat! Just refer to your cutting board, use it for decor or just to keep your recipe in a handy location.

Our Laser Engraved Cutting Boards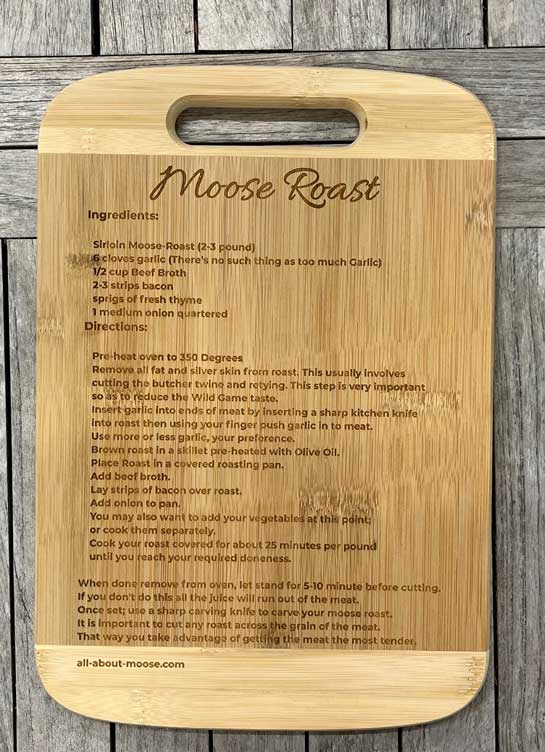 Engraved Moose Roast Cutting Board
This moose roast recipe is the same one you find on our website, it is our most popular recipe!

Now only $29.95

The cutting boards are made from bamboo and engraved as shown in the pictures.
They are 13 inches wide by 9 1/2 inches high.

Looking for something  special? We can also do custom boards if you have a special recipe you would like engraved.
Just use the contact us link and we can start a conversation with you regarding what it is you are looking for on an laser engraved cutting board.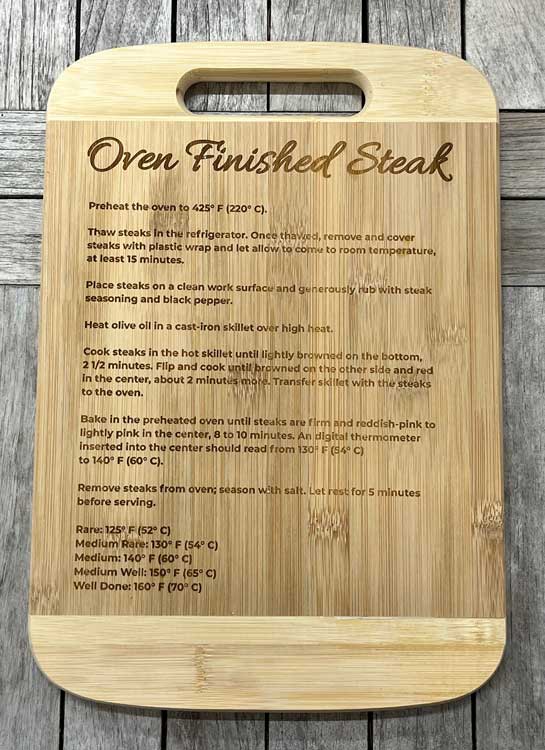 Oven Finished Steak Cutting Board
Looking for an awesome way to finish off cooking a moose steak? I love this recipe because it's so easy to control the doneness of the moose meat.

Laser Engraved Cutting Boards
Want to learn how to hunt moose? Or are you wanting to increase your moose hunting skills?

Look no further!

Our moose hunting tips book is written with not just the novice in mind, there are tips in the book that even the most seasoned moose hunter will find of value.
The book includes 57 chapters, with more than 150 pages of information, jam packed with tips, techniques and discussions - The Ultimate Guide to Moose Hunting!