.270 vs .30-06
by Cal
(Slave Lake, Alberta)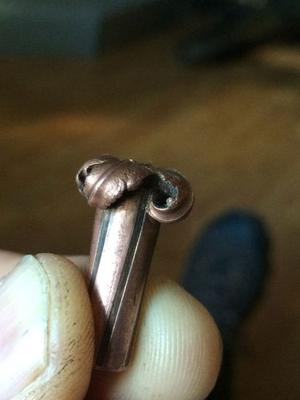 Barnes Bullet Recovered from a Moose
I too use a .270 win for most of my moose hunting, using 150 grain Corelocks I can break the shoulder blade and still take out the lungs if I need to. I've also owned a 30-06, .308, and .303 as well and have never met a moose that could tell the difference between them.


Mine is a Ruger 77, stainless laminate, and topped with a 2-7 scope. I jokingly call it "my long range rig", as most of my other rifles are geared more towards hunting big timber. With its moderate calibre, barrel length, and scope it will handle just about any species in and terrain that you want.


---
Cal, thanks for sharing. All three rifle calibers you list are popular moose cartridges, and as you mention, are more than capable to bring down a moose with a properly placed shot.
And I must say, that a properly placed shot is always prudent no matter what caliber rifle you shoot.
A .416 Rigby is just as capable of wounding a moose as is the .30-30 carbine. Yet both are capable of one shot kills too.
~ Mark