Antler Velvet Color
by Tom
(Kansas City, MO, USA)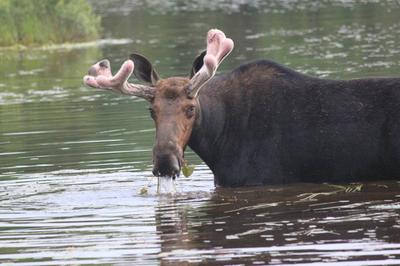 Moose Antlers Turning Pink? Photo by Mark Bulley
In Wyoming during the week of July 4th, I photographed some nice bull moose in velvet. A couple of the bulls had considerable amounts of white or very light coloration on part of their antlers. I haven't seen this before...could it be some kind of fungus or is it just normal color variation?


---
That really is a good question Tom. I don't have the answer to your question right now but I will find out. A moose with white or near white velvet is nothing I have seen.
I will forward your question to a wildlife biologist I know who studies moose and ask him.
It would be helpful to see the pictures. Would be so kind as to email them to me? I would appreciate it and I'll forward them as well as put them up here if you like... so everyone can see exactly what you refer to.
Update:
Thanks for sending the pictures Tom. Quite a unique display for sure. I see now why you questioned the moose antler velvet color.
Hopefully we'll get some feedback to answer why these bulls had white on their antlers.
Were there others in the group that had this same coloration? Or was the color change unique to the individuals you photographed.