Archery Moose Hunting
by Cam
(South Okanagan)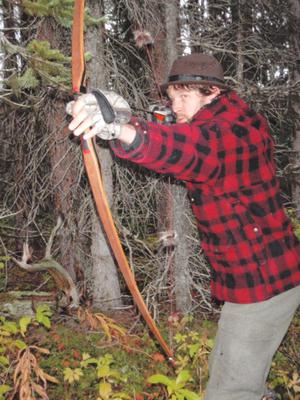 Traditional Archery Moose Hunter
First time moose hunter from the south Okanagan my father an I are planning our first archery moose hunt to the Babine lake area this fall.

This being our first trip north for moose I am wondering if the moose would be rutting more seriously in the September 1-9 bow season or more in the October 1-8 season?

I'm not an avid moose hunter, more of a elk hunter myself. Just wondering in your opinion when are the moose rutting more in the north?


---
Thanks for your question and the answer is simple... the moose rut doesn't begin in that area until October.
Last year (I hunt the same area, Babine) I didn't get any bull answers until the 3rd of October. After that I had communications with bulls and cows every day.
I went up 10 days before the season and only saw one bull before the 1st of the month. In total last year, I saw 11 bulls during the 8 day archery season. Unfortunately not within range or didn't offer a shot.
The 2011 was similar although I didn't see as many bulls.
I hope this helps.
BTW: There are some cranker bulls up there. A friend got a 51 incher in the same zone last year!