Best Part of Moose for Stew Meat
by Irene
(Maine)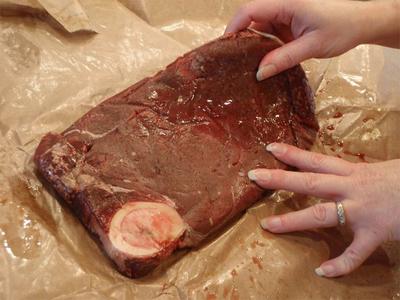 Moose Round Steak - Perfect for Stew!
What is the best part of the moose to use for stew meat? I have five roasts and four different types of steak, what would be best to use for stew?

================

We always use round steaks or round roast for stew. It's an excellent cut, lots of meat and not too much gristle, if any at all really.

If cutting a round steak, unless it's been deboned, I usually add the bone to the stew as well. The bone and marrow will add some extra flavor to your stew.

We will cut out any gristle and trim fat then cut the meat into one inch cubes. Excellent!

There are others that you could use too: Chuck (you might want to use a pressure cooker), Shoulder Roast (Slow Cooker), just about any will do.

Not, New York strip or tenderloin, that would be a waste.

Oh, and I always recommend removing the silver skin.