Big Cow moose
by dan buss
(Qualicum Beach, BC Canada)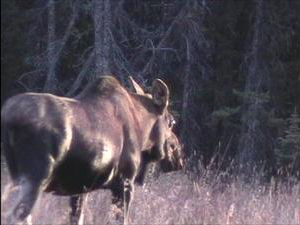 Cow Moose
This big cow moose is very nosy. When I got up in the morning to pack my gear so I could head 8 km's in the bush to set up my camp I had got up early from spending the night in my trailer.

So the first thing I see moving is a hat rack bull on the run but the cow is staying for a long look, watching everything that I was doing!
Join in and write your own page! It's easy to do. How? Simply click here to return to Moose Pictures.
Want to learn how to hunt moose? Or are you wanting to increase your moose hunting skills?

Look no further!

Our moose hunting tips book is written with not just the novice in mind, there are tips in the book that even the most seasoned moose hunter will find of value.
The book includes 57 chapters, with more than 150 pages of information, jam packed with tips, techniques and discussions - The Ultimate Guide to Moose Hunting!