DIY Camping Hot Water

Finally,  plans for building a camping hot water heater. I know a lot of you have been waiting a long time to get your hands on easy-to-build endless hot water heater plans, sorry about the wait.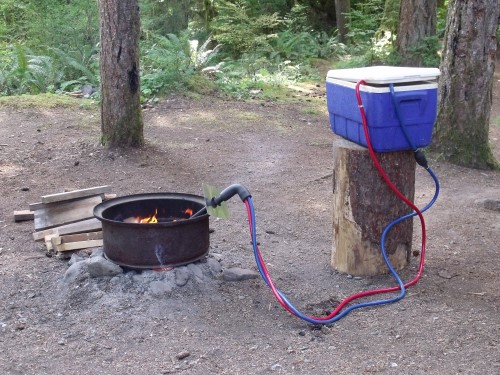 Anyone with a little plumbing or soldering experience can build one of these water heaters. Our plans consist of  several pages of computer generated drawings with complete bill of materials and instructions. You can build this DIY water heater for around $100.00

Benefits: Camping Hot Water Heater

The water is heated away from the fire using a heat exchanger probe placed in the campfire. The heated water is stored separately and is easily accessible to the entire crew.
If you are camping, likely you have a campfire, right?
Why not let your campfire heat your water passively while you sit around the fire enjoying your favorite beverage?
You don't need electricity, batteries, or propane to use this water heater. As long as you have a campfire, fresh water and our system, you're all set.
FYI: if you aren't allowed a wood burning fire, you certainly could use one of those propane fired camping pits. I know that goes against the no propane required but sometimes we have to deal with open fire bans and the propane powered fires are permitted (in some areas).

Our endless hot water heater plans include a detailed bill of materials and a separate drawing for each component. There are 26 pages of detail for you.

The materials you need to for building this heater are readily available at most plumbing stores and hardware stores.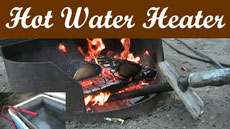 This is a great DIY project for the camper who likes to build and and use innovative projects.
It's a simple and fun to build project that can be put together in just a few hours.

We love our camp water heater for obvious reasons. We always have ample supplies of hot water for washing everything from dishes to people.
Just remember this style of heater does not have a thermostat. Therefore you can only control water temperature by adding more cold water or removing the probe from the fire.

Buy the Plans

Download ePlans
Endless Hot Water System - PDF Format (Download Only)
Only: 29 USD

Print Plans
Endless Hot Water System (Print Only)
Only: 39 USD
Download ePlans and Print Combo
Endless Hot Water System - (Download & Print)
Only: 39 USD
Safety Precaution using the Water Heater

The system does have one drawback; although there isn't really any danger for explosions (it's an open system) so no pressure can develop, the water tank (cooler) in our case holds about 50 liters of VERY HOT WATER! You must be sure that everyone knows of the risks involved of have a container of hot water like this around. If it spilled on someone A VERY SERIOUS BURN COULD RESULT!
It is the users responsibility to take precautions against hot water burns!
If you don't want to build your own water heater, or to learn more about how this system works, visit our other webpage.

› Build Your Own Camping Hot Water