Can you help identify this skull that was found recently?
by Elaine
(New Hampshire USA)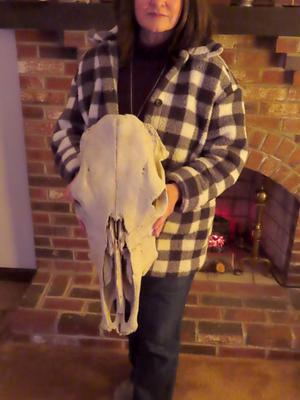 The Skull after Cleaning - What Animal Do You Think This is From?
I have been looking on-line for help identifying a recently found skull just off a trail in New Hampshire, USA. I've sent emails to a research university and a center for conservation and education but have not received any replies as of today. 😊 I retrieved the skull and cleaned/disinfected it. The lower jaw is missing and some areas of the skull have been nibbled away. I'm thinking it could be one of two choices, either a domestic cow (although there are no farms in the immediate area) or a female moose? Thank you for any information you can tell me about the skull.

Just an FYI, I did get a reply back from a Senior Veterinary Pathologist at the New Hampshire Veterinary Diagnostic Laboratory, of the University of New Hampshire. The answer to my question on species was Moose! I just thought I would pass the information on to you and thank you for any time you spent on answering my question.

*********

Elaine, thank you so much for taking the time to send this in. This is the type of submission that our readers love to see! 😊

Anyway, if it means anything at all... I agree that the skull is that of a cow moose. Great Find! And nice job in cleaning it up.
Join in and write your own page! It's easy to do. How? Simply click here to return to Ask An Expert.
Want to learn how to hunt moose? Or are you wanting to increase your moose hunting skills?

Look no further!

Our moose hunting tips book is written with not just the novice in mind, there are tips in the book that even the most seasoned moose hunter will find of value.
The book includes 57 chapters, with more than 150 pages of information, jam packed with tips, techniques and discussions - The Ultimate Guide to Moose Hunting!
And don't forget to order one of our Fiberglass Moose Calls. In stock and ready to ship.