Guided Newfoundland Moose Hunt
by John
(East Northport NY)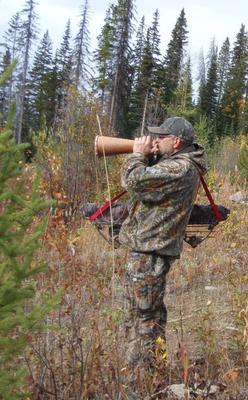 Call for moose using a birch bark moose call
My friend and I are going up to Newfoundland at the end of this month for a 2 hunter to 1 guide moose hunt. Not sure what a proper amount for a tip ($$) would be assuming good service. Thanks in advance.


---
John, good luck on your guided moose hunt. I've not been on a guided moose hunt in Newfoundland (or anywhere else for that matter), when you hire a guide you must make some assumptions.
As you mention good service is important, equally important will be...
How well does your guide know moose hunting and can he deliver the goods?
Again, going to assumptions, I'm sure before you hired your guide you checked his references and maybe even called some of his past clients. Were they successful? Were they happy with the level of service?
You'll go into the hunt with some idea of what you expect to be delivered by the guide.
He is the expert. You will be relying on his guidance to get you the BIG one. If he delivers your level of customer satisfaction will be higher than if he can't find a moose for you.
As for giving tips ($$) for a guided moose hunt. Well, I don't know what to say, or how much to give to the guide.
Good luck on your hunt. You'll be out during prime time!
~ Mark