The Ultimate Moose Hunting Knife
Introducing the Ultimate Moose Hunting Knife: Conquer the Wild with Precision and Power!.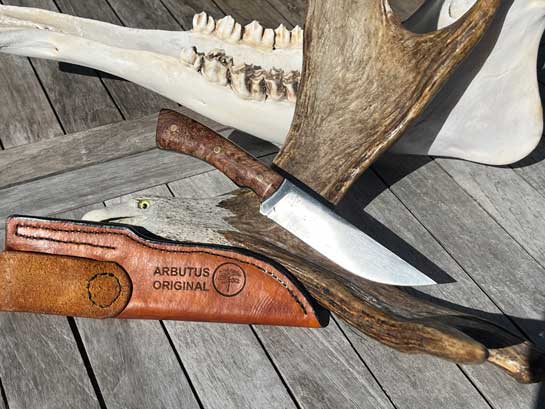 The Ultimate Moose Hunting Knife
Are you an avid hunter seeking the perfect companion for your moose hunting expeditions? Look no further! We proudly present to you our revolutionary Moose Hunting Knife, meticulously designed to meet the specific needs of every dedicated hunter.
Unmatched Durability: Crafted from the finest materials, our Moose Hunting Knife is built to withstand the harshest of conditions. The blade, cut from 1095 carbon steel, exhibits exceptional strength and resilience, ensuring longevity even in the most rugged environments. Trust in its ability to tackle the toughest tasks, from field dressing to processing meat, without compromising its sharpness.
The Moose Hunting Knife
Precision and Ergonomics

Precision and Versatility: Our knife features a precisely engineered blade profile, honed to perfection for optimal cutting performance. Its razor-sharp edge effortlessly glides through hide, flesh, and bone, allowing you to make precise and clean cuts. Whether you're skinning a moose or preparing campfire meals, our versatile knife is a true multi-purpose tool that never fails to impress.
Ergonomic Design: Comfort and control are paramount during hunting expeditions, and our Moose Hunting Knife ensures an unparalleled grip. The handle, crafted from stabilized maple burl (Canadian Maple), fits ergonomically in your hand, reducing fatigue and maximizing manoeuvrability. No matter the weather or the terrain, you'll maintain a firm hold and wield the knife with confidence.
Portability and Accessibility: Designed with the modern hunter in mind, our Moose Hunting Knife is lightweight and easy to carry. The knife comes with a durable leather sheath that can be attached to your belt or backpack, ensuring quick and convenient access whenever you need it. Never miss a moment during your hunt with our knife always within reach.
Exceptional Craftsmanship: Made in Gold River Canada, our commitment to excellence is evident in every aspect of the Moose Hunting Knife. Meticulously crafted by a skilled artisan, it embodies the perfect balance between form and function. From the intricately designed blade to the flawless finish of the handle, our knife represents the pinnacle of craftsmanship, reflecting your passion for the hunt.
Take it Everywhere!
Endless Possibilities: While primarily designed for moose hunting, our knife is a versatile tool that extends beyond a single purpose. Whether you're exploring the great outdoors, camping, or engaging in other hunting endeavours, the Moose Hunting Knife is your reliable companion for any adventure. Its exceptional performance and durability make it an essential tool for any serious outdoorsman.
Don't settle for mediocrity when it comes to your hunting gear. Invest in the Moose Hunting Knife, the ultimate companion for your moose hunting adventures. With its unmatched durability, precision, and versatility, this knife will elevate your hunting experience to new heights. Join the ranks of satisfied hunters who have chosen our knife as their trusted tool.

This listing is for the exact knife in the pictures. When we offer another knife the pictures and details will be updated.

Order yours today and embark on your next hunt with confidence!
Want to learn how to hunt moose? Or are you wanting to increase your moose hunting skills?

Look no further!

Our moose hunting tips book is written with not just the novice in mind, there are tips in the book that even the most seasoned moose hunter will find of value.
The book includes 57 chapters, with more than 150 pages of information, jam packed with tips, techniques and discussions - The Ultimate Guide to Moose Hunting!