Moose Hunting Spots How Close is Too Close
by Anonamoose
(Undisclosed)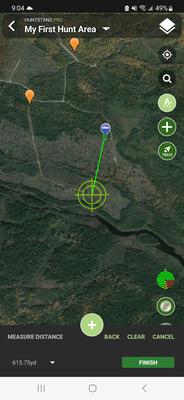 Moose Map 1
I've been hunting moose in the same spot since 2017, and I've always been successful. I have my salt lick set up there again this year with moose showing up on my trail camera. My concern this year is two people have put up signs for moose hunting 2023 relatively close to me in different cutting. From my cutting to the other person's cutting there is about 600 - 700 yards. I can't say exactly as I don't exactly know where they are set up, but now I'm thinking this is way too close!
Even for moose calling we will likely hear each other. I'm thinking about moving, this is all crown land so even though I was there first I can't tell them to move.. But now the hunt is like 7 weeks away so I'm afraid there is not enough time to change locations. I've attached a layout, the 2 orange points are the new signs and the blue one is my salt lick/camera.
Join in and write your own page! It's easy to do. How? Simply click here to return to Moose Hunting Tips.
Want to learn how to hunt moose? Or are you wanting to increase your moose hunting skills?

Look no further!

Our moose hunting tips book is written with not just the novice in mind, there are tips in the book that even the most seasoned moose hunter will find of value.
The book includes 57 chapters, with more than 150 pages of information, jam packed with tips, techniques and discussions - The Ultimate Guide to Moose Hunting!