Moose Liver Pate?
by France
(Central NL)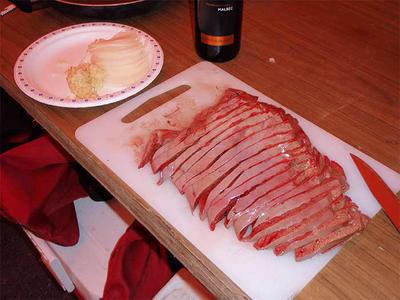 Sliced Moose Liver
Some people call it "braun" not sure if is spelled right, but anybody have recipes?


---
Thanks for your inquiry France.
Moose liver Pâté or "braunschweiger" a type of liverwurst as some refer to it is very nutritious.
Unfortunately, organ meat is offer overlooked as a delicious snack or main dish. We eat the animals main portions (legs, ribs, hind end) why not the organs too?
The idea of eating organ meat has been frowned upon in many of today's 'modern' societies, yet there are many attributes to its consumption.
People of the Paleolithic Age would have eaten it for sure. Did you know that the people of the Paleo age were basically disease free?
I don't have a recipe for moose pâté myself,
hopefully someone will contribute one
.
Failing that, I am sure if you looked up a beef pate recipe it would lend itself quite nicely to moose liver pâté.