Moose Love and Play
by Ken
(Kelowna)
The moose were very active in the meadow this past September. A big bull moves in to keep two small bulls away from a cow during the pre-rut.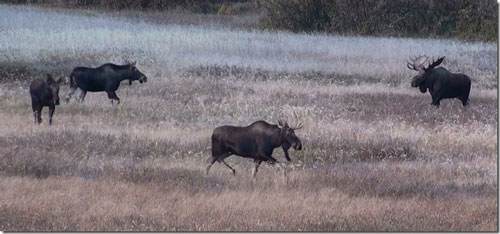 Later on a small bull stands with his nose up in the air and although his mouth is wide open he doesn't make a sound. (see Flehman below)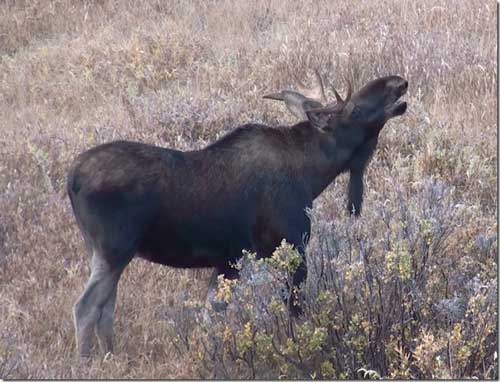 Nearby another bull plays and cuddles with a cow.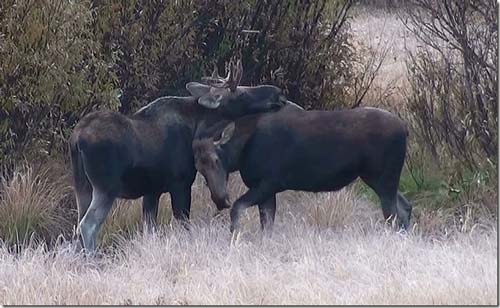 On another day a small bull jumps into the air as he and a cow play like children in a play ground.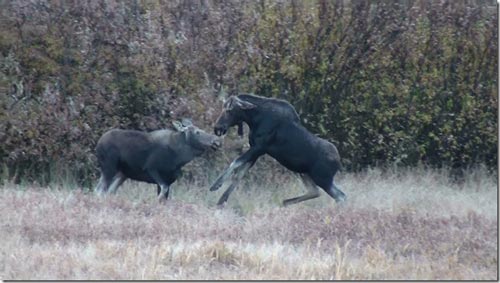 ---
Editors notes:
Lip-Curl or Flehmen
The lip-curl or flehmen is performed by male moose in an attempt to gather sexual signs from nearby cow moose that may be nearing breeding readiness.When bulls assume this state they are most often with their head elevated (as show) and accompanied by rapid breathing, open mouth and profuse drooling.
Dewlap or Bell
Note the difference in size of the bell or dewlap of the various bulls. Mature bulls develop the larger dish shape bells while the immature bulls have the tail.
On mature bulls the dish shape bell is often observed without the tail. This is a result of the tail freezing during winter and falling off.
There doesn't appear to be any reason for the bell of moose other than possible a place for some scent to gather but no studies have shown this to be a main factor.
Mark
"The Moose Man"