Moose Steps
by Michael Mcanulty
(Underhill, VT)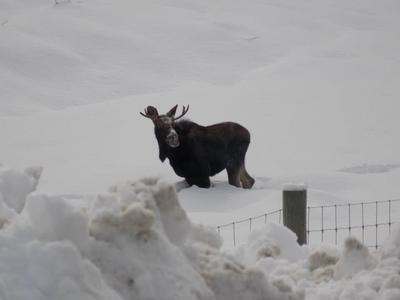 A Young Bull Moose Stands in Chest Deep Snow
What is the measurable distance between moose steps? I had an extremely large animal come through my yard, in NW VT. We have quite a bit of snow, and unfortunately it continued to flurry after the tracks were made, so there is no definitive print. We have never seen moose in this area.


---
Michael, there are most certainly moose in NW Vermont. Maybe they haven't been right in your area but they have been seen near there. I did a quick search and found a few postings of sightings, it could very well have been a moose in your yard.
As far as distance between step go? These distances can vary greatly from a few feet to several yards depending on if they are just walking, trotting or jumping.