Moose Track Shapes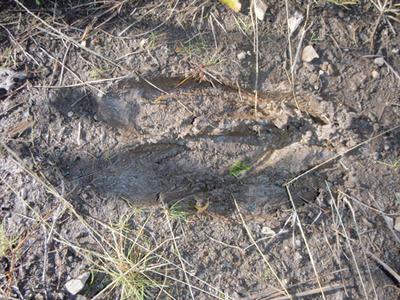 Fresh Bull Moose Track
I was wondering about the shape of a bull moose track.

Is a bull moose track more pointed than that of a cow or is the cow track more pointed than a bull moose track?


---
As far as I have ever seen the overall shape of a moose hoof is the same, no matter which sex of moose you are trying to identify.
However, there is a distinct difference in the size of hoof and therefore the hoof print impression and that is the width of the hoof.
An Eastern or Taiga bull moose hoof can have been found to be 5 inches (127mm), cows to be 3 3/4 inches (95mm) and calves are about 2 7/8 inches (73mm).
Where Alaskan/Yukon cow moose can have hoof widths of 4 3/8 (111mm) inches and bull moose may have greater than 5 1/2 inches (140mm) width.
Moose rely on their hoof shape and size for "floatation" on soft ground and snowy conditions.
A comparison between whitetail deer and moose hoofs show that their respective hoof loading (weight per square inch) of their hooves is very similar. Moose and deer hooves apply about 8.5 to 11.4 pounds per square inch to the ground. Therefore if you were to watch moose and deer on similar snow or soft ground you would be able to see they would sink about the same.
The reason for that striking difference is the moose have a much larger footprint (more square inches of surface area) that that of a deer.
Mark
"The Moose Man"