How long does potted moose last?
by David
(Ottawa)
Some friends gave a jar of potted moose about two years ago. We've kept it closed in the fridge (which has never failed) since then. It got 'lost' at the back of the fridge. It looks just the same as it did when they gave it to us.

Would it still be safe to eat, or did we wait too long?

Thanks for your help,

David


---
David, Personally I wouldn't hesitate in eating pressure preserved moose meat as long as the seal hasn't been broken.
I must emphasize that the meat
must
have been done by the pressure cooker canning method. I would not eat it if the seal was not intact, or if the canning method used was the boiling method.
As for longevity, we keep canned (jarred moose or salmon) for several years. We don't keep our canned food in refrigerator unless it has been opened. Once opened only a few days before it is discarded. We have a cold room (although it is not very cold) that we keep our canned food in. It is dark, no sunlight get in. I would think that if your canned food was exposed to sun the shelf life would be shortened.
Moose in the Fridge 5 days old!
by Bernadette
(St. John's, Newfoundland)
Ok, so I was just reminded of some moose meat that I cooked there about 5 days ago. Things get lost so quickly in my fridge. I just hawled it out, smells good, looks good, even tastes the same. Loves me moose bye' and I haven't seen a piece in years. Going to go finish it off and can't wait for a response from here.
Don't worry - I'll still be alive and kicking when you read this! Bhahhahahaaaa


---
No problem at all Bernadette. I would have done the same thing!
~ Mark - The Mooseman
How long can moosemeat be kept in the freezer?
by Emily
(Fort Collins, Colorado)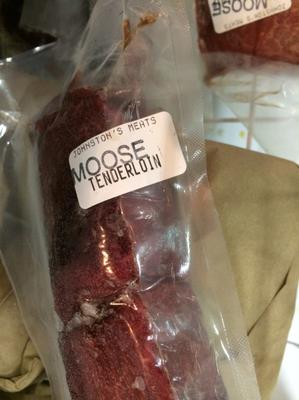 Frozen Moose Tenderloin
Hi there!

A friend gave me some of her husband's moose meat that he hunted 2 years ago... Is it still safe and healthy to cook and eat???


---
How long can you keep moose meat frozen and have it acceptable to eat?
Emily, you ask a question we actually get asked quite often, or one similar to it.
Relatively speaking just apply the same rules you would to beef as far as long term storage goes.
The tenderloin pictured above is now one year old and it doesn't look any different to the moose we packaged this week. It will probably taste the same too!
The packages of moose mince are the same. If they have been packaged well and the air has been kept away the meat can easily last two maybe three years. Any more than that I'd pretty much consider giving to your dogs.
They'll love you for it!!
Plastic wrapped meat will keep much better in the freezer than those pieces that were wrapped in just freezer paper. My suggestion is to open it up. Smell it and look carefully at it.
Is it nice and red? Does it smell good :) OR BAD :(
Use your human judgement. Two year old meat won't make you sick or anything like that. However, you do want to enjoy what you eat!
If it doesn't smell right, or has too much freezer burn... discard it.
Have a good look at the T-Bone steak picture. I knew it was old and was only wrapped in freezer paper. Compare it to the tenderloin!
The whitish gray areas are freezer burned, there is considerable frost on the meat. That means oxygen is getting to the meat and drying it out. Thus the term freezer burn.
Quite some difference eh? If you could smell it too, you would know it's not fresh anymore.
Oh my, my dog is going to love me!
Mark
"The Moose Man"