Pheasant Recipe
by Steve Kane
(Courtenay, BC, Canada)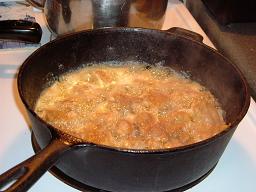 Browning the pheasant nuggets
Buckee's Pheasant & Cream Recipe
* 1 or 2 pheasants
* 1-2 eggs
* 2 tsp. salt
* 1/4 tsp. pepper
* 1/3 tsp.garlic powder
* pinch of sage,poultry seasoning & coriander
* 1/2 tsp. paprika
* 1/4 cup melted butter
* 1/4 cup vegetable oil(or olive oil)
* 1-11/2 cups of cream
* 1/4 cup diced onion
* a few finely diced chives
* 1 cup flower
* 1 cup finely chopped corn flake crumbs
..
..De-bone pheasant (removing tendons in thigh meat)and cut into nugget size pieces.
..Combine flower,cornflake crumbs &seasonings.
..Beat egg in small bowl and dip pheasant nuggets in egg.
..place egg covered nuggets in flower & cornflake mixture and coat well
..In a large skillet, Brown pheasant pieces in butter and oil
..Place pieces in large baking dish with lid,
..Combine cream and drippings along with onion & chives in pan and bring to BOIL.
..Season with salt and pepper and pour over pheasant.
..Cover and bake at 325 degrees for 45 min
**WARNING** This recipe is very fattening and should only be eaten by those who appreciate good food :)
----------------------