Sir John A Macdonald's Moose Antlers
by Cody Graham
(Ottawa Ontario)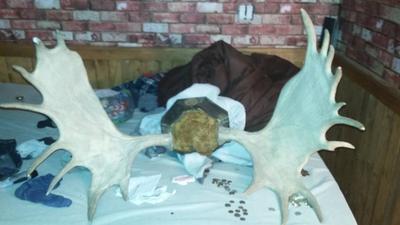 Sir John A Macdonald's Moose Antlers
I recently found at a yard sale a set of moose antlers that apparently once hung in Sir John A Macdonald's hunting camp.

There stamped on the back WM Thompson Bytown. Bytown (Founded in 1826 and Incorporated in 1850) being Ottawa Ontario before it was called Ottawa (Ottawa was Incorporated in 1855).

My question is what would some like this be worth? If they are real, they are well over 100 years old.


---
Sir John A Macdonald was the first Prime Minister of Canada. He served from as a majority government 1867–1873.
As for your antlers worth... to a collector? I can't answer that.
Maybe someone else can?
Antlers for carving and for dog chews can fetch more than $10 a pound.
~Mark