THAT'S A LOTTA BULL!
by Rick
(Saskatoon, Sask., Canada)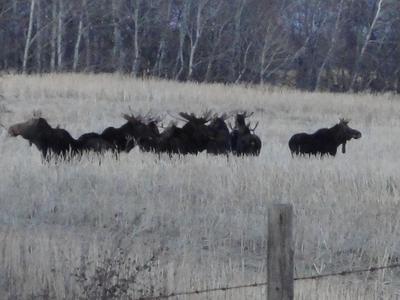 THAT'S A LOTTA BULL!
This is a herd of 10 Bulls and 1 cow we happened across while deer hunting a couple of years ago.

These are farmland Moose in Saskatchewan that never had a hunting season in that particular zone before.

There are a few of these in freezers by now, as hunting limited draws has come about finally for these areas.


---
Rick, thanks for sharing your photos. It is not everyday that we get to see such a large group of bulls. 10 bull moose in one group... THAT IS A LOTTA BULL! lol
Mark
"The Moose Man"