Towing a moose in the water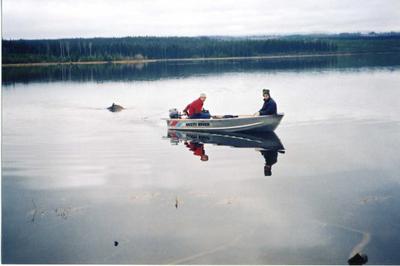 Towing a moose in the water
What is the best way to tow a dead moose in the water to a landing? Behind our small Jon boat with a two horse motor or tie it along along side? I have high hopes.


---
I'm not sure which is the best way, but I can tell you that towing the moose behind our boat worked for us.
I somehow don't think tying your moose along side would be very safe?
Not only that, I think it will be much harder to steer your boat if the moose is along side. The moose carcass will create a tremendous amount of drag on the side to which it is tied.
Here is a point to remember:
Don't clean your moose before you attempt drag it across any body of water. It will sink like a rock if you do!
Towing a moose behind a boat with a small motor is a slow process. We had a 15HP motor on our 12 foot Misty River boat and as I recall, it took about an hour to cover 500 meters.
You can see in the picture the distant shore we towed our moose from.
When this bull was shot, we were lucky. Unknown to us at the time, he was standing in about 18 inches of water. When he hit the ground he was mostly floating already. However, it still required considerable effort to get him out into deeper water where he floated free of the bottom of the lake.
With a 2HP it's going to take you some time! Be sure to have a thermos of coffee with you.
~ Mark - The Mooseman